AMA Week - Hello Friday 5
Hi LTOnauts! Time for a weekly update. Usually, we do those in the form of a Twitter thread and then post them on Reddit and Telegram – but this time there is simply too much to fit into a few dozen symbols.
This week we continued working on the new website designs, developer docs, and moving the ILT use case further – integrating the frontend of Capptions with the Live Contracts backend. Of course, that is in addition to numerous integrator meetings and also scaling the LTO team. We will let you know about these and other developments in the coming weeks!
There was tons of community engagement this week as well: we ran a few community programs together with our new friends:
Sherlock: Russian chat of crypto enthusiasts. You can read the RU recap here, and the EN recap here. Was super fun!
Atomic Wallet: a new crypto wallet with desktop and Android versions out there, and iOS coming soon. See the EN recap here.
BNBeer Chain competition with some fun memes.
Trust Wallet AMA. Well, that was incredible!
---
There were over 850 questions from the community, over 1250 answers to quizzes, and a lot of unique answers from the team. According to the Trust Wallet team, that was by far the biggest engagement from community members – what can we say, LTOnauts are super dedicated!
Let's get to some interesting questions:
Are there any AUDIT compliance reports (e.g. ISO 27001) for LTO Network?
Yes, for the (centralized) SaaS, but not for the decentralized node/network yet – we underwent that audit for Euronext.

LTO Network became a Dutch member for ISO. We went to Dublin as a committee member and are already working on helping shape the ISO industry standards for blockchain. Thus, we don't just adhere to the guidelines, we are at the front of making them. Very proud!
What are the best practices for integrating a legacy system with LTO network, do you offer consultation/guidance/training & certification for the IT team of a company?
We already did trainings with BCG, Axveco, Novum Innovatie Lab, and others. Next to that, a new website, new docs, new developer videos, and developer playground. All in works!
Can your model be integrated for supply chain cases?
Yes, absolutely. The toolkit for Live Contracts allows one to determine the logic of any process be it supply chain, insurance, legal contracts, and so on. The logic of step-by-step actions is different for every process and rests on its own miniature ad-hoc chain.

Those are horizontally scalable and easy to integrate with existing systems. For the supply chain, we are already doing it as the stage 2 pilot with Capptions and EU governments, see more info here.
Whats is the difference between Proof Engine & Workflow Engine?
The proof engine is anchoring your existing data to verify it hasn't been tampered with in a trustless way. The workflow engine is for (trustless) cross-organizational workflow orchestration.
Everyone is running behind new blockchain, so don't you think that having too many blockchains going to hamper the crypto industry?
This is a natural phenomenon. There used to be a lot of social networks. Now there is a handfull. It's important to get a lot of adoption quickly to stay relevant. Those who don't will die out. Features aren't that important for survival (they can and will be copied at some point).
Why are you creating your own blockchain instead of leveraging an existing and proven base layer protocol?
We needed a blockchain that was fully decentralized and optimized for anchoring. That didn't exist. Existing anchoring solutions were centralized (fully or party) and had a response time that was too long for our use case, and did not meet the standards of businesses.
Is it possible in LTO Blockchain to remove one or more block from the networks?
No, the public chain is a regular blockchain with a single genesis block. The event chains are ad-hoc chains, created for each process. They can be deleted at-whole once a process has been completed, but you can't delete single blocks or events.
Why would developers like LTO?
You can build decentralized workflows which have an advantage over SCs because you can perform on-chain and off-chain instructions which makes it far easier to integrate with existing systems.
---
And many more cool questions… You can join LTO Public Chat and ask the team or the community anything you want, it's super friendly there.
Binance Chain – Airdrop
For some of those competitions, we distributed BEP2 LTO as rewards. But what to do when there are over 1000 addresses that you need to send LTO to? Sven, CTO of LTO Network, used the Binance Chain Tooling and simplified it to make it easily accessible to those who don't even code.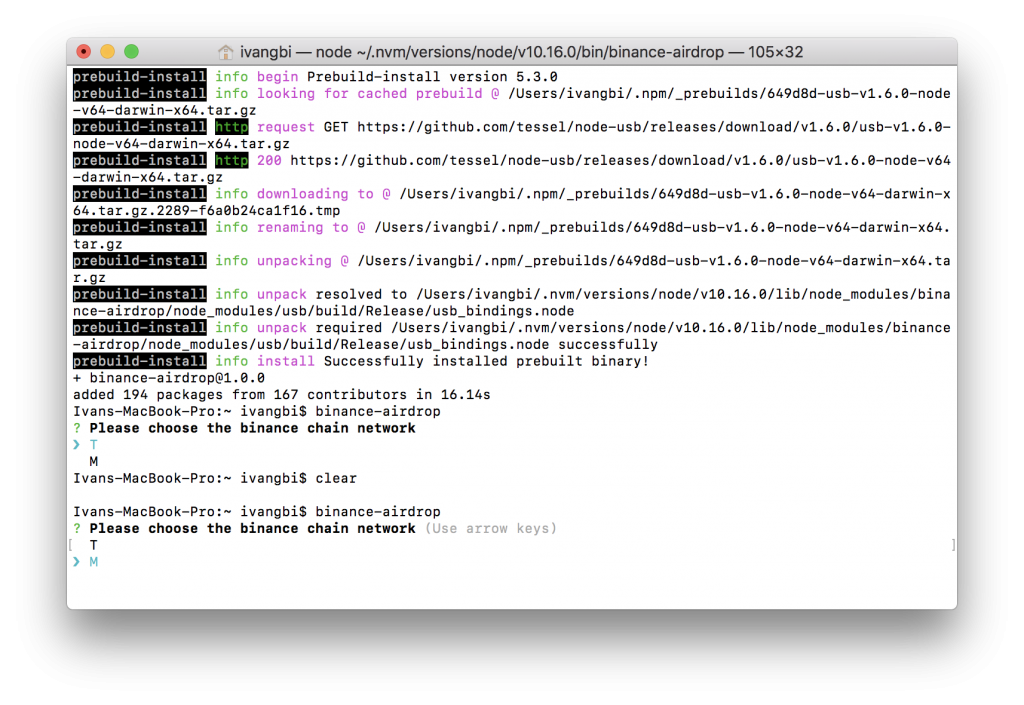 You can just install and run it with NPM, here is the tool. So if you are doing an airdrop or some distribution on Binance Chain, just open it up, and you will be ready to send tokens in batches within 2 minutes!
---
That's it for today – join the LTO community, and see you soon: