Blockchain Adoption: Real-World User Base via System Integrators
We have recently partnered with TicTag, NEN, and other system integrators, as well as became working members of INATBA and ISO. We are humbled to have achieved this level of blockchain adoption, and for us, it's just the beginning! Here you can read about the USPs of LTO Network.
In this article, we will explain why it's so hard for blockchains to break out of the echo-chamber, what the adoption strategy of LTO Network is, and show you a preview of our new system integrator portal.
---
Why real-world adoption of the blockchain fails
The blockchain space is still in its infancy. There are some amazing use cases being enabled by these technologies, but the level of adoption across the industry is still incredibly low. Therefore, for the space to succeed, we need to break out of the echo-chamber and bring in as many real-world users as possible.
Many companies have been looking into blockchain integrations, testing the technology, and figuring out what benefits it brings to their organization. But for any organization, clear benefits and reasons for either starting a pilot or advancing it further are required.
However, other projects take an over-complicated approach and try to shoot for the full IT infrastructure change from day 1, making the blockchain onboarding process unattractive and costly. This is not how we envision blockchain adoption to happen. The integration must be simple and develop gradually.
Adoption strategy: land & expand
Land and expand – is the approach of LTO Network. We start with simple things, like data anchoring, which can be applied to all existing applications and increase the security of any piece of digital data.
Once a system integrator sees the benefits in practice, they are able to upgrade to Live Contracts and streamline processes and data exchange – all within the same environment. This way, LTO Network can keep the exponential growth and develop further as the backend blockchain platform for automation of processes and data exchange. Making blockchain easy to comprehend and implement – is essential.
Examples of layer 1 and 2 use cases
Layer 1: Anchoring on LTO Public Blockchain
The adoption of e-Signatures has made signing documents and steps much easier. To add another security layer to that process, SignRequest implemented anchoring in early 2019 on the LTO Network Public Blockchain.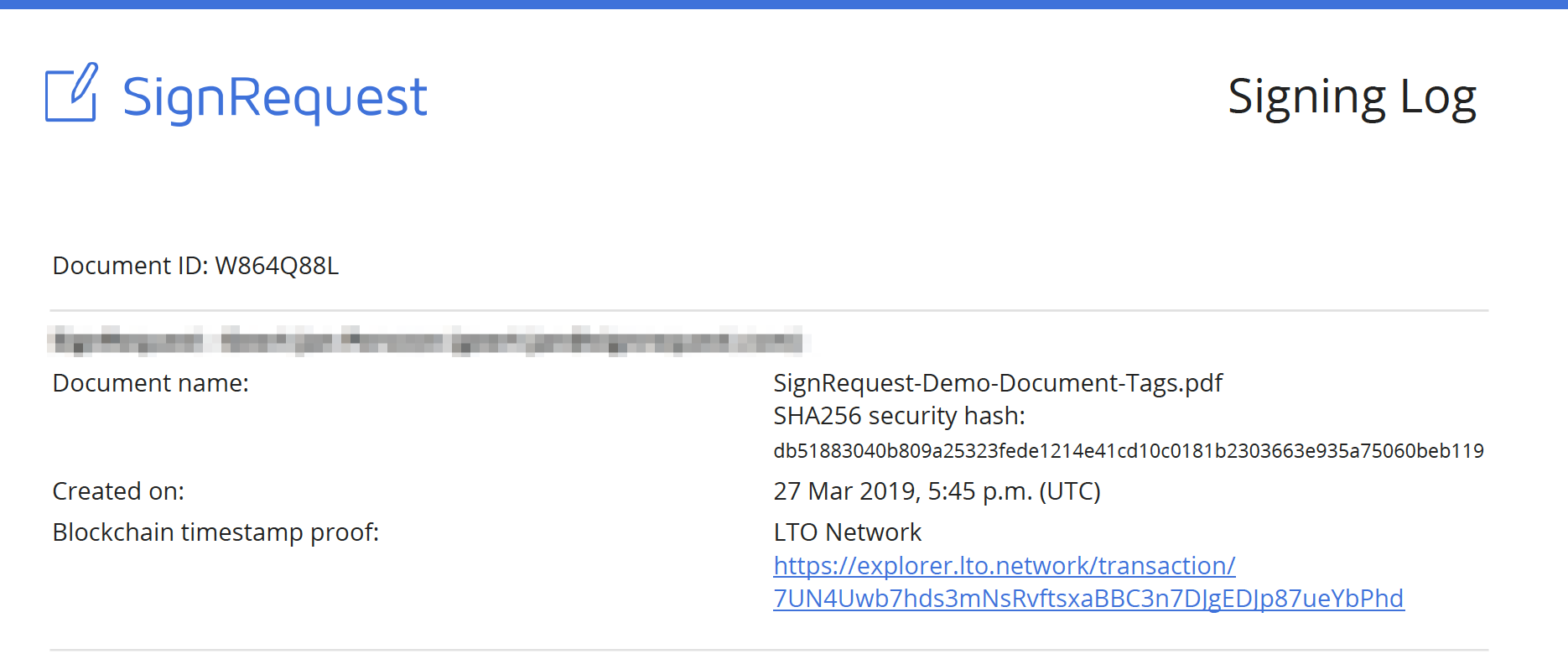 Users, after signing a document, get an email with the confirmation, as usual, but with an extra link to the blockchain verifying their action. This provides a higher level of transparency which end users can enjoy, without over-complicating the onboarding process!
Layer 2: Process Automation with Workflow Engine
This use case revolves around streamlining the logistical process of waste shipments on ad-hoc event chains. The logic is defined by the actors and is then represented on-chain, using the LTO Network Decentralized Workflow Engine. The security is guaranteed by recording hashes of events on the LTO Network public blockchain.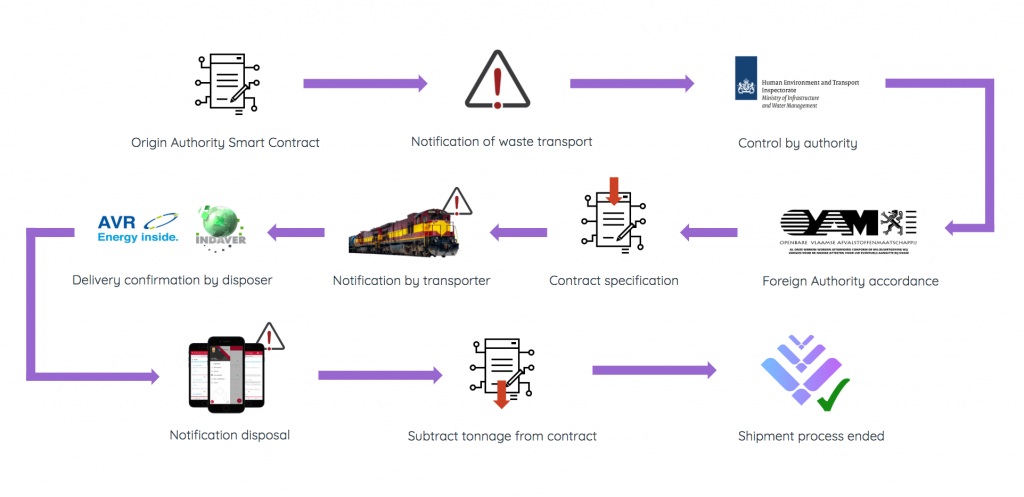 All interaction takes place via the usual Capptions user interface. This way, users work with the application they've always worked with, only now they reap the benefits of blockchain integration.
LTO Network's USPs for System Integrators
Blockchain is not just a promise in the future, it's a technology that can provide a lot of benefits to your clients today. However, for a client, it has to be simple enough to comprehend, and for an integrator simple enough to implement.
For many years, blockchain projects were just about whitepapers and overcomplicating things to sound more interesting. They never actually went live with a useful product. LTO Network, on the other hand, is a ready-to-use hybrid solution which adds value today.
With LTO Network, you can automate processes that run between multiple organizations. Solving the silo problem that so many organizations face. We are making blockchain adoption seamless for both system integrators and clients:
No product push: easily plugged into existing systems and applications without having to change anything to the way you're working
Privacy by design: your data can be private, yet transparent at the same time.
Network effects: over 1 million users in a constantly growing ecosystem
Big words, but is this really possible? We heard many times from our clients and integrators the following words: "Our users want to "see" blockchain. More than just understand its potential, they want to see it actually being put to use". You asked – we deliver….
"As a client or user, you don't want to follow a hundred steps before you can set up your blockchain account. Moreover, you want to actually see how blockchain works and what benefits it brings – in real life. We make complex blockchain technologies easy for users to see and easy for solution providers to implement!"

Rick Schmitz, CEO of LTO Network
Contact us to explore your blockchain integration!
---
Learn more about how organizations can use the blockchain:
Independent software vendors → Software applications that can anchor data on LTO Layer 1 public permissionless blockchain to secure the integrity of digital data. Here is a detailed business pitch.
System integrators  → Companies and providers utilizing LTO Layer 2 decentralized workflow engine to automate processes and solve the issues of data silos. Here is a detailed business pitch.