LTO Network Autumn Report: on-chain growth and winter plans
Autumn has passed, yet another three months full of development! As everyone prepares for Christmas – and LTO team members get abandoned by their families because they rarely show up at home and sleep at the office – let's recap all the things that happened during the rainy season. Get warm, grab a mug of gluhwein or tea, and let's go through it!
By the way, we have hidden the clues – well, not really hidden, they are highlighted or quoted – to help you follow the most significant changes and upcoming upgrades coming during winter. Check out Spring and Summer reports.
---
On-chain activity: transactions and nodes
The usage has been growing and, despite the activity resurgence on some older platforms, LTO Network has firmly remained in the top-25. With nearly 900,000 transactions in November, we are estimating to finish December at over 1M transactions, breaking previous records!
With the growing usage, more fees are being paid out in LTO tokens which are shared among validating nodes in our Proof of Stake system. As a result, either the current set of validators would share more rewards – or more LTO would be staked by new members. So which one do we see? – A balance of both.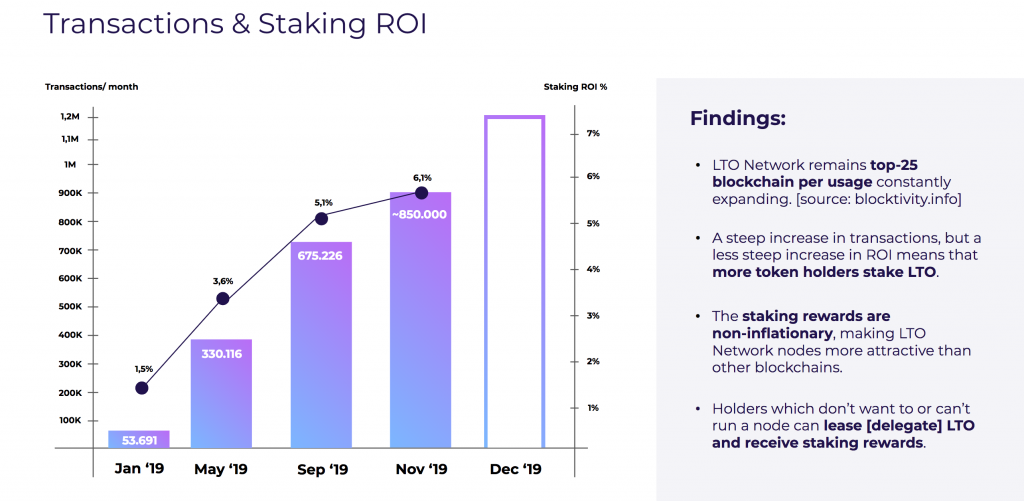 As ROI has been increasing to 7% yearly, new stakers have joined. Going further, community members anticipate current integrators to contribute more activity – as well as upcoming integrators joining the network. For staking specifically and how to run a node, scroll down.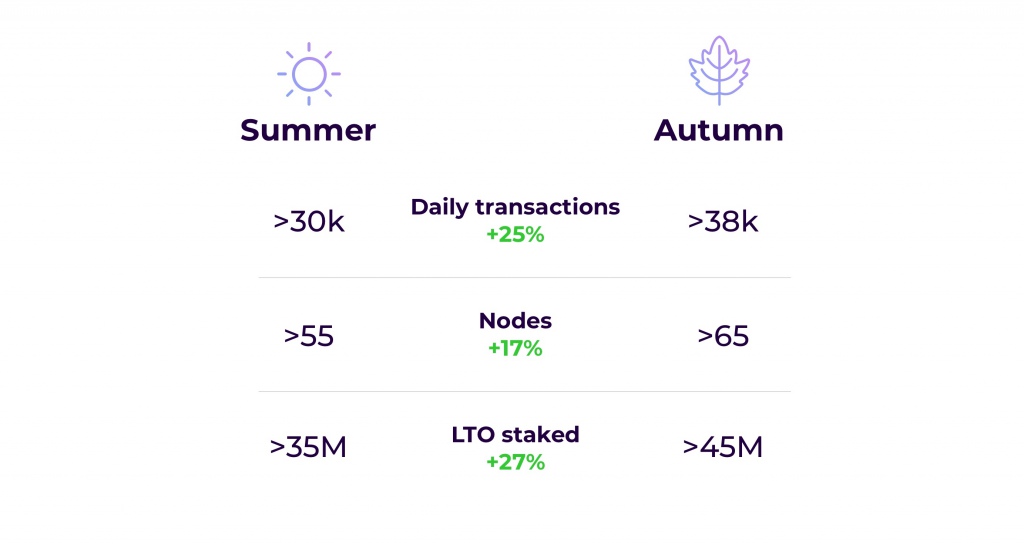 Ecosystem V: system integrators and ISVs
The current growing activity is coming from the companies which have been bootstrapping the network since launch in January 2019. With more users being attracted to their end-user solutions, that is being reflected in more transactions on mainnet. For example, the activity from LT Node originates from more products being run and adopted by multiple companies. And soon, each of those products will get their own node, to increase transparency. About that later in the product suite section.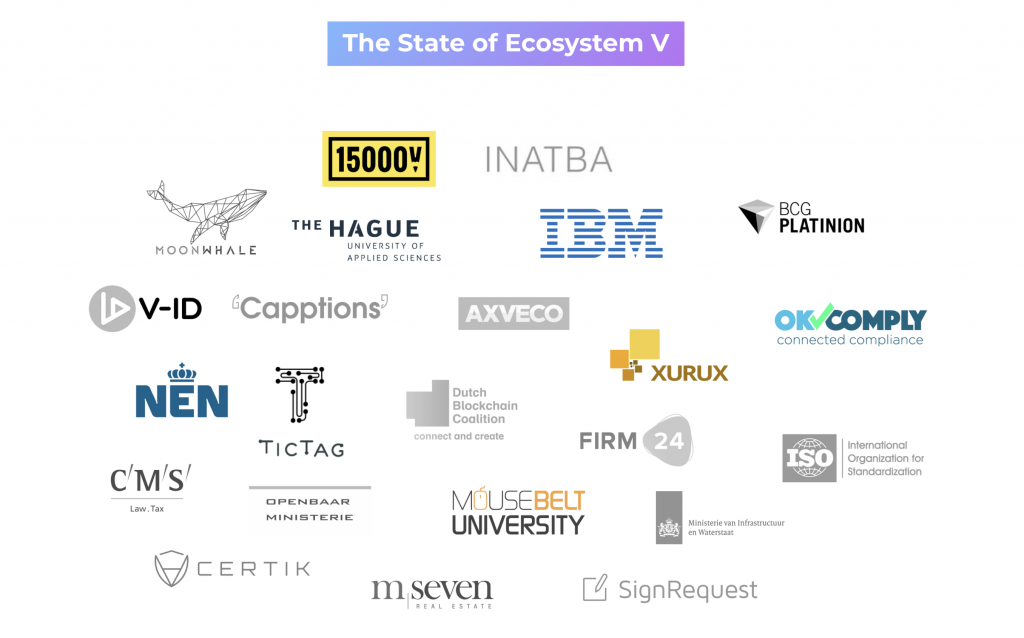 We have partnered with:
15000V. UK-based award-winning agency 15000V has joined LTO Network to help bring retail use case and end-user applications into the ecosystem. Our first project [from the ones we are already working on] will be revolving about diamonds and other luxury goods that tend to get stolen and resold.
OKComply: This B2B software company, focusing on automating compliance for over 750 companies and institutes, is integrating with LTO Network. As the first step in our collaboration, the OKcomply application will be further secured with the use of anchoring on the LTO Network public blockchain.
XURUX: Xurux is a dedicated blockchain consultancy and implementation start-up, with a proven track record of blockchain projects for the Dutch Land Registry, Deltares, and Vodafone Ziggo. Together, we will be fostering blockchain adoption, contributing to higher LTO Network usage.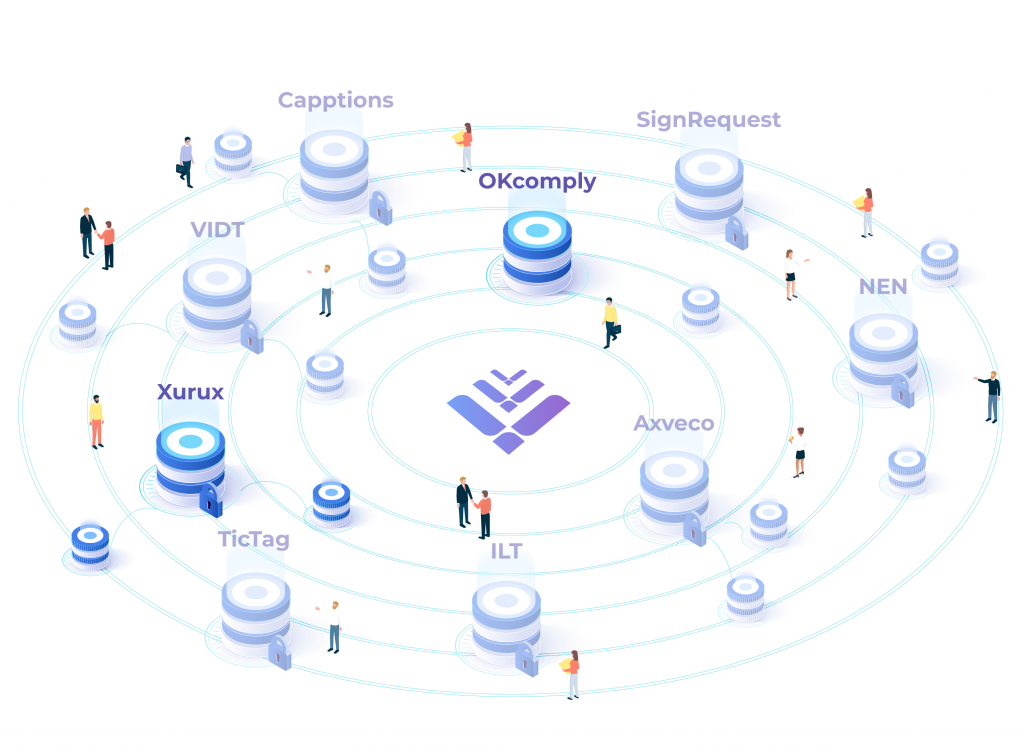 IOE: Internet of Environments by IBM is about real-time linking of sensors to an IoT platform. LTO Network and V-ID provide the mechanism to certify that the sensing data originates from a trusted source. Together we ensure a scalable setup to allow for growth once successful.
Pim Volkers: Art authenticity on the blockchain. LTO Network, V-ID, and ScanTrust have already secured the works of National Geographic award-winning wildlife photographer Pim Volkers.
Mousebelt. Together, we are building a network of industry leaders to drive blockchain innovation through education, research, and entrepreneurship at top universities with over 67 student blockchain organizations in 14 countries.
Some parties have started building PoCs, some already try the blockchain-infused products, but as the adoption cycle goes in big enterprises – the real activity kicks in after some time. And that is 2020. With the NEN Live Certificates solution getting out there to the world, OKComply integrating their solutions with more companies, and the amazing retail use cases we are working on with 15000V going live – the landscape will improve majorly!
You can find a list of clients and partners here.
Product suite: Proofi, FillTheDoc, LetsFlow
Integrators, integrators, integrators… that strategy has been working well, and will show its real success starting from Q1 2020. We don't intend to stop with it. As the network effects come into play, there is much more we can be adding into the mix. And that is – our own Product Suite.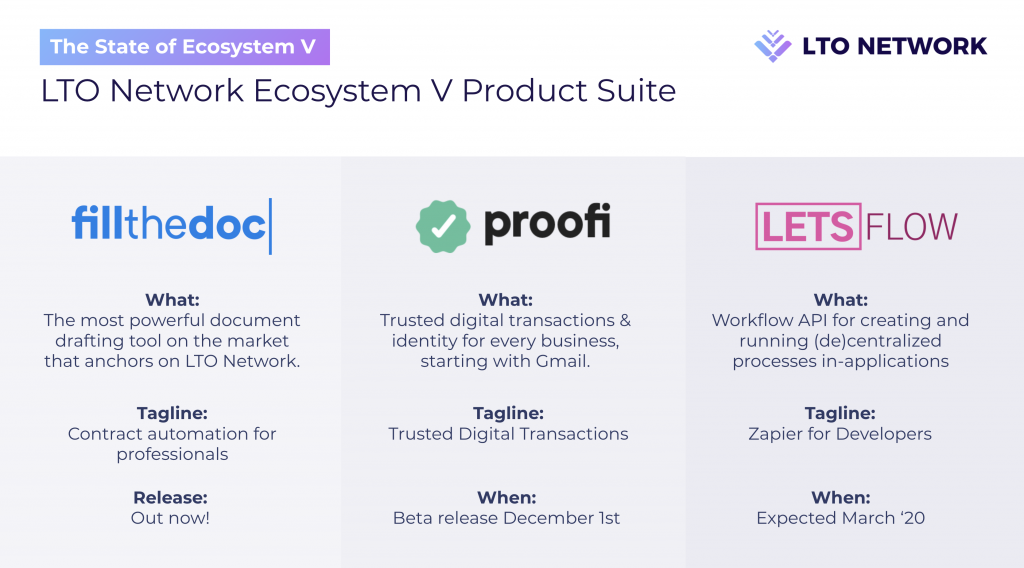 We are separating some of the layers into separate services which are very understandable, easy, and convenient for end-users to transition to. And all of them will have separate nodes, contributing more and more transactions to the network! More on that in the coming product series, where we will dive into each one of them one-by-one and explain the improved strategy going forward.
"Starting with Proofi Beta, while FillTheDoc is already operational, and then revealing to developers LetsFlow – we will be looking into integrations not just with existing systems, but with other blockchains and databases."

Sven Stam, CTO of LTO Network
By the way, Join Proofi Beta!
Speaking events and universities
Having working solutions and integrations really differentiate LTO Network from many other blockchain companies and communities, hence we get invited to speak at cool events and participate in various government and business programs:
Now to blockchain education.
This year we've been involved as a partner of The Hague University for Applied Sciences – for KOIOS – research and development project initiated by the research group New Finance of the Business, Finance & Marketing (BFM) faculty at The Hague University (THUAS).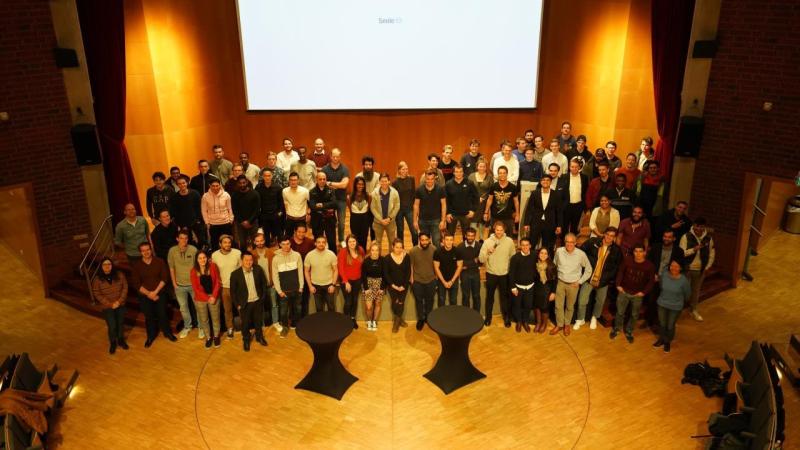 For this minor, a talented group of students worked on our assignment "The investigation of Live Certificates on the blockchain". The main goal was to study the added value of blockchain technology in this process. This will be built upon in the next minor starting February 2020. You can see how our collaboration has been developing from September and going forward with the subsequent walk-through together in October.
We have also been working with the talented group from Wageningen University on Live Contract solutions, and have other universities joining us.
Website launch and community expansion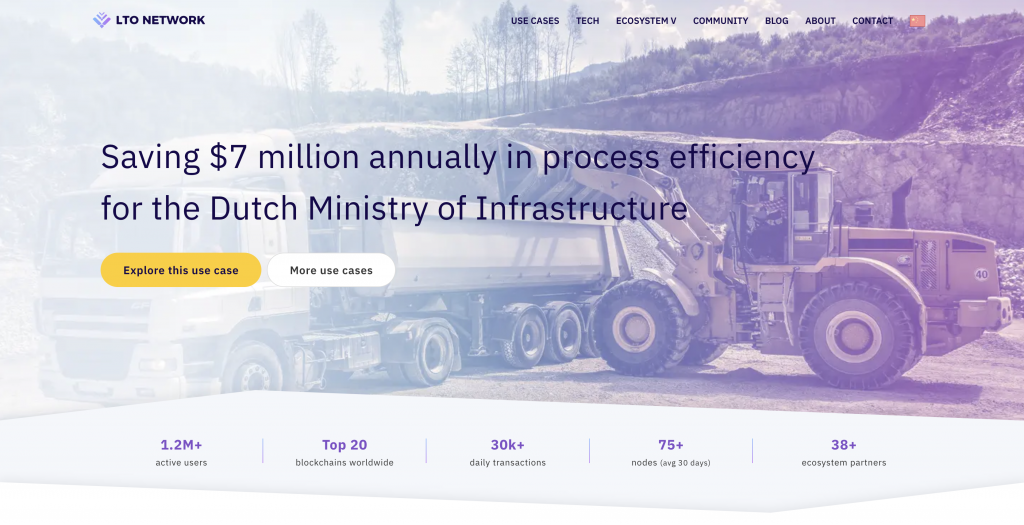 We've been featured in larger publications for our hybrid blockchain solution [BitcoinNews and ZyCrypto], our CEO Rick Schmitz had a cool interview with CryptoMurmur, we had video catchup with Blockchain Brad talking all-things-adoption, and more…
Oh, and we will be running updates in different languages on our medium – which will be our international blog. Expanding into Asia in 2020, we have put down some thoughts in this article for China – while LTO Japanese community is growing as well, check it out!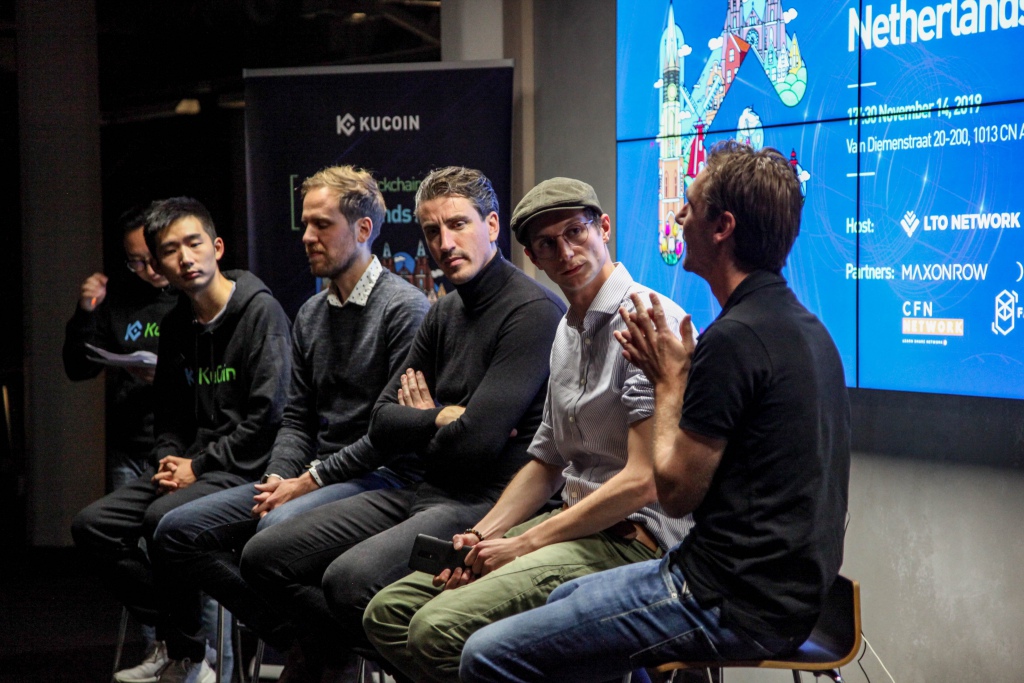 We had a great day with KuCoin,V-ID, Dusk, CFN, BlockData, and Maxonrow at our Blockchain Day in The Netherlands – welcoming our new and old community members. You can check our the recap short story on our LinkedIn page, or watch our COO Martijn Broersma presenting the updates.
Looking forward to the next one!
Join a staking node or run a node yourself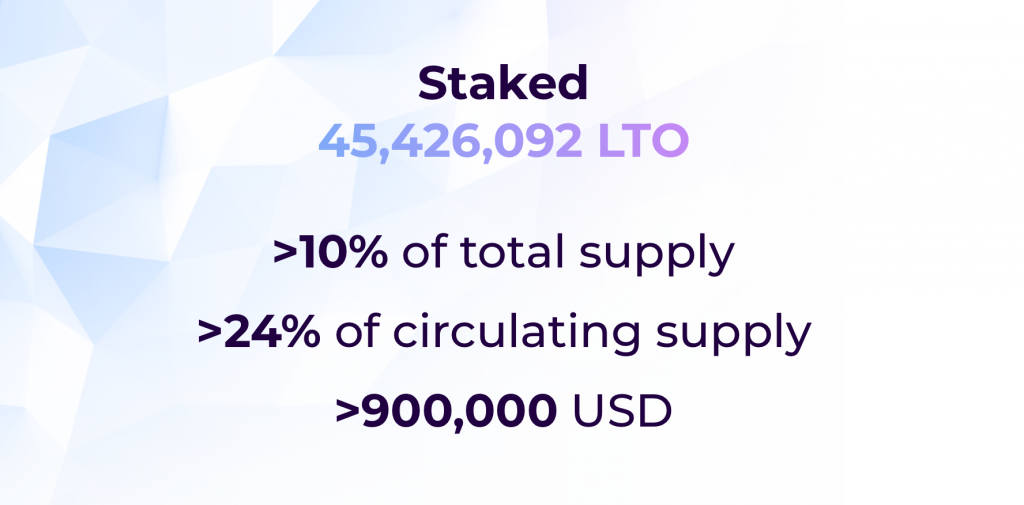 This picture explains it all: the network is growing, more supply gets locked up for staking – you should join too! It's super simple to get involved: you can run a node yourself and stake or lease to others. Find all the details in this blog article.
---
Previously announced projects getting live, new products being released, transactions and staking activity growing, exposure to be increasing, and some other things which the community has been waiting for as well…
"For us, 2019 was a year of coding and developing. For fraudulent crypto projects, it has been the washout period – which is a good thing for the industry as a whole. At this point, there are few companies left, while our position has remained strong and growing. In 2020, we will be putting more resources into marketing and user acquisition, expanding our strategies. We are excited for 2020, but 2019 is not over yet!"

Martijn Migchelsen, CFO of LTO Network
Website | Telegram | Twitter | Reddit | LinkedIn | Documentation
ivan ps: wen merch