Creative Blockchain: Welcoming 15000V to Ecosystem V
Have you ever written a line of blockchain code? Probably not. But, since you're reading this announcement, you expect that it holds information that you think might interest you. There's a big chance that at some point you had some creative blockchain ideas, in which you realized the technology might be an outcome for a certain issue you've come across.
Potential of Blockchain Technology
We're all in this sphere for our own reasons and our own expectations of where this technology will take us as a society. With blockchain, we're promised a game-changer. Yet at the moment only a fraction of the world utilizes blockchain technology in whichever form. So, how do we make sure that you as a reader keep and grow your interest in blockchain, of which the adoption curve is much less steep than you expected?
Those who are involved in blockchain technology on a daily basis, know that bridging tech and consumer expectations are one of the biggest hurdles to take when it comes to adopting the technology. Next to that, it's penetration with society is minimal, tons of PoC's fail and GDPR isn't exactly blockchain's best friends. Well, for LTO Network it is. This current Trough of Disillusionment might restrict us in coming up with new business models, improving existing business models or even thinking about where blockchain technology is heading at all.
So let's change that narrative, again!
Whereas LTO Network already gave blockchain a unique mobile phase through partnering with independent software vendors who integrated the technology in their applications, it's now time to get more creative with blockchain solutions using the strength of ecosystems.
Where Real-World Meets the Blockchain
Last June 15000V, a renowned Welsh design and creative agency, was introduced to LTO Network by one of their closest community members. A community member that knew both companies well, and who apparently had its good reasons to connect our two parties, whose tracks might have never met if it wasn't for this introduction. A beautiful example of how an ecosystem forms and moves.
With blockchain agnostic agencies/integrators becoming more and more the standard at the moment, it never hurts to explore possibilities with out-of-the-box thinking companies.  And so we did. A lot. For months. And now we're excited to tell you more about it, and why this specific partnership allows for this barrage of ideas, introductions and conference calls of this past couple of months.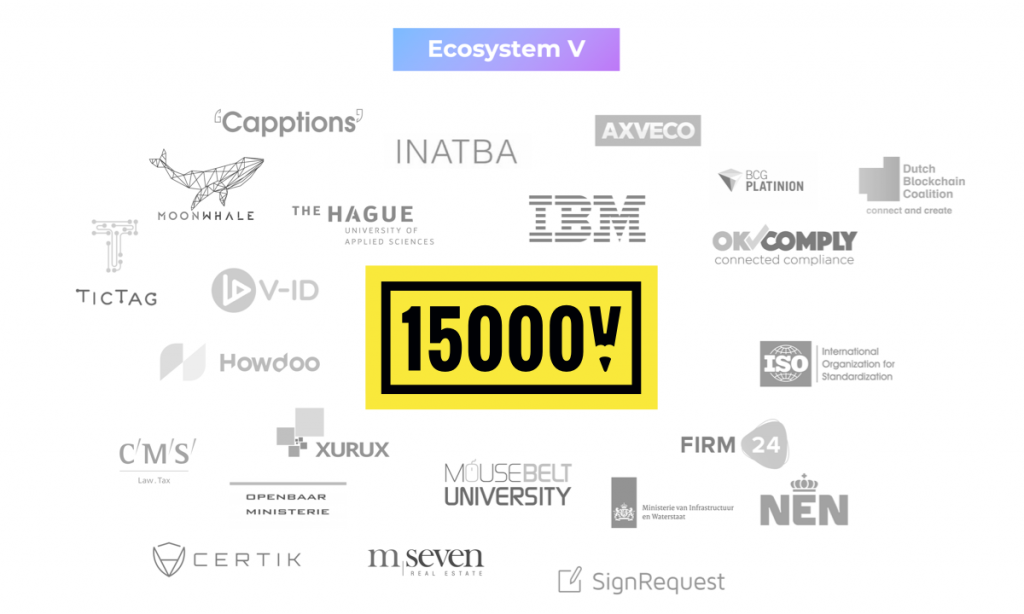 To start with, LTO Network is much more than a blockchain fabric that allows for efficient anchoring and decentralized collaboration. It's a communal effort into getting adoption going. But only getting just a bit of adoption and societal penetration is already a task so extensive, that it's far from a one-company job. To raise awareness, to connect with existing applications, to reach foreign possible parties, to build these end-user centric applications, you'll need something bigger.
Ecosystem V and Creative Blockchain
For exactly this reason, LTO Network initiated Ecosystem V last June. A new blockchain adoption approach, already supported by dozens of ecosystem partners. In Ecosystem V incentives are distributed, in which everyone, all over the world, can play its own specialized role. They can unleash their creativity through our community platform as an active community member, or have companies puzzling the building blocks together using existing software ecosystem participants. It's set up with a goal to be an inspirational platform for every enthusiast, developer, company, institution, enterprise or government that is looking for a practical solution.
Whereas this might sound a bit abstract to some who are relatively new to the industry, 15000V started grasping the Ecosystem benefits instantly. Within a week, we're on our first joint call with a possible third-party client that had expressed a wish to use blockchain but had no idea where to start – as many of them do. Being able to actually show ecosystem partner concepts with user interfaces, such as Capptions and ScanTrust, allowed for a much more resonating pitch.
The Next Steps with 15000V
15000V not only shows the blockchain-driven Ecosystem V & LTO Network tech to third parties as a reseller and ambassador of Ecosystem V, it's creative and design capacities also allow them to come up with unique concepts themselves. With 15000V's technical background, these solutions can be set up lean, sometimes building parts of the solution themselves, but also very much leverage on existing, LTO Network linked applications.
"We've taken part in several blockchain communities before, yet we haven't been as excited about a partnership as this one with LTO Network. Whereas we gave community- and visual support to other projects before, we can now harness the power of blockchain today. With the help of LTO Network's above-and-beyond core team and existing ecosystem partners, we can build plug-and-play solutions with the help of available tech in the ecosystem."

Shaun Preece, CEO & Creative Director 15000V
---
Shaun: Our first project (of many) will be revolving about diamonds and other luxury goods that tend to get stolen and resold. Every customer, jeweler, pawnbroker, police office and insurer would be able to independently check if a diamond has been stolen. Using LTO Network, Diamond Center of Wales' specialistic engravement technology and Scantrust' Smart QR codes, we're building a game-changer in the diamond world. We're already looking forward to the next version of the project!
For many end-clients who wish to use the blockchain, the misconception is still there that only big financial institutions and corporates can benefit from this technology, and that even inquiring into blockchain will cost them a fortune. This is a shame, because many of these businesses usually don't need complex, cumbersome smart contract to upgrade their operations. Whether you're Forbes 500 or SME, it's about starting small and dreaming big.
"We're more than excited to have 15000V on board of Ecosystem V. We really found each other in the belief that becoming and staying creative is crucial in current and future business. 15000V, with their great creative insights, fully embarking on this journey, gave us tons of new insights and it's been an absolute pleasure consulting them, their network and their ideas on how to strategically and creatively implement blockchain. Expect ground-breaking applications from them in 2020, because they simply get it."

Martijn Broersma, COO of LTO Network
Join the Movement!
Every one of us, daily blockchain practitioners, blog readers, and usual citizens come across inefficient operations, trust-requiring processes and security flaws on a daily basis. It's only for the well-informed, out-of-the-box thinking creatives in this world to come up with feasible and cost-efficient solutions for these issues. Look around, pick your brain and come up with cool ideas. Even when you can't write a single line of code, there are always parties to help you with your ideas in Ecosystem V. We would be more than happy to discuss your ideas!
---