The LTO Network is a hybrid blockchain platform featuring Business-to-Business functionalities. Live Contracts were built to optimize business workflow. Combining private chains and a public Leased-Proof-of-Stake blockchain, the LTO Network enables General Data Protection Regulation ("GDPR") compliant blockchain solutions.
We aim to foster blockchain adoption by increasing security of applications and automating business processes. The project is building blockchain solutions with both privacy and transparency in mind. LTO Network separates data sharing from network consensus, and builds a decentralized public layer as well as a customizable private layer. We build and enable other blockchain solutions which are GDPR compliant and can easily integrate with existing systems that businesses already have in use. To conclude, LTO provides opportunities for companies and organisations to anchor their contracts and other documents into the blockchain to secure the integrity and immutability of those files.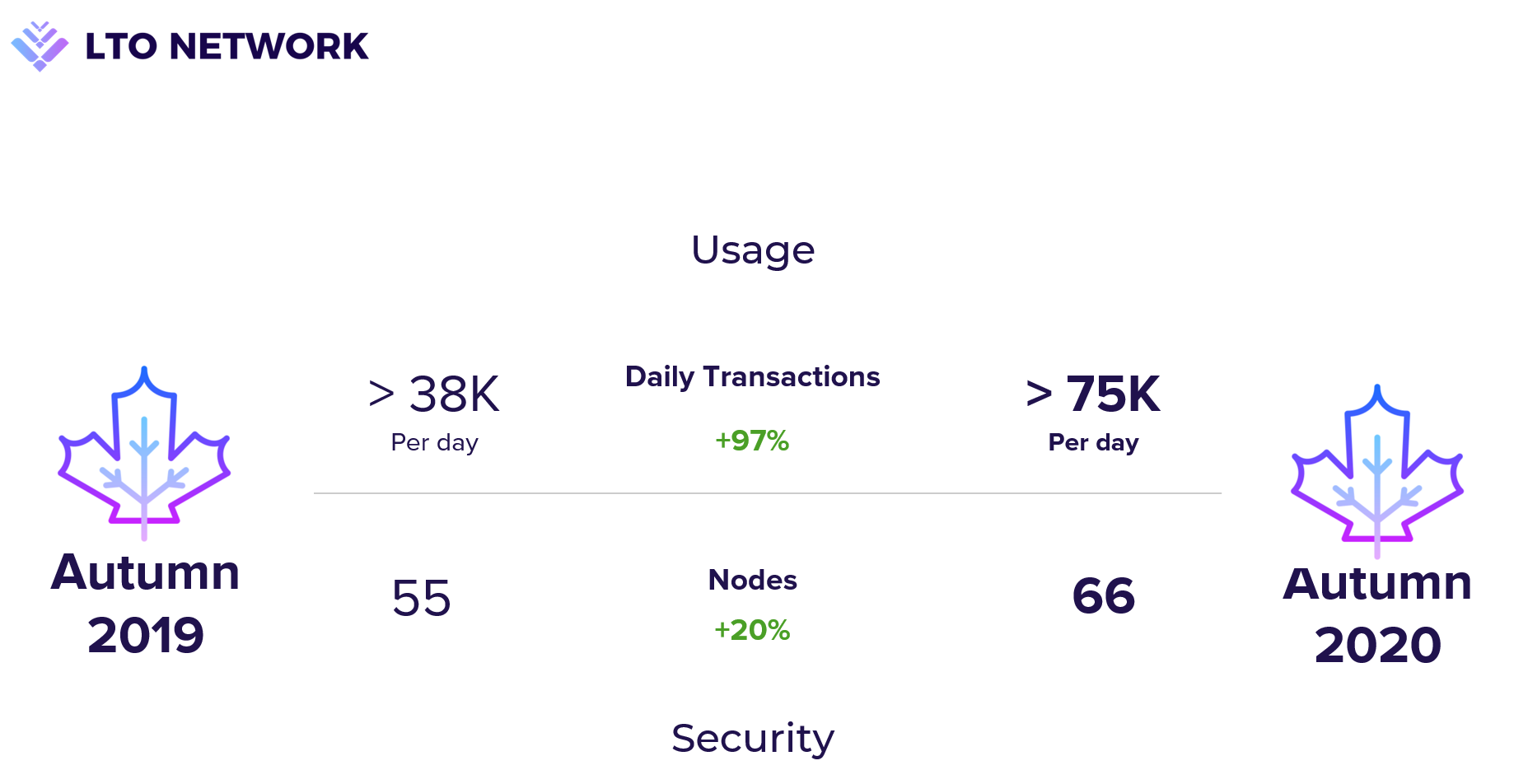 Integrators
With LTO Network becoming one of the most widely adopted blockchains, we take a moment to dive into an overview of some of our amazing integrators (and their worldwide clients) and see what they have to say about LTO Network!
V-ID is a service that detects any unlawful manipulation of any digital file. In order to make files verifiable, they must be validated. V-ID's validation process involves extracting the fingerprints of files and saving them in the blockchain. Some of the notable clients from V-ID that are using our product :
"We entered into a partnership with LTO Network by rolling out an immediately applicable, GDPR-compliant blockchain solution for companies and governments. Additional objectives in this regard are the practical applicability for organizations from every sector, achieving cost savings and further developing the Netherlands as a European knowledge center for blockchain applications.The conversations we had with clients and potential partners over the past few months have always been full of energy, but Rick added even more. LTO Network distinguishes itself through speed and potential, in addition to vision and leadership."

Marnix van den Berg, CEO and Founder V-ID
---
Capptions is a Rotterdam-based business data-capture and insights platform that allows teams to digitize processes for managing operations, compliance, and continuous improvement. The app-builder enables them to do the work themselves without the need for IT-expertise and expensive, outsourced software development. Some of the notable clients from Capptions that are using our product :
"By integrating LTO Network's anchoring service across the Capptions platform, we can give blockchain a mobile face. For Capptions, adding blockchain to our applications is something we consider beneficial to our clients. They are dealing with environmental inspections carried out by the Dutch government, oil terminal inspections for parties like Fujairah Oil and the safe refueling of thousands of aircraft at Schiphol airport. Our inspection app handles sensitive and vital data, so immutability is critical. By implementing blockchain, we're able to let multiple stakeholders monitor and provide one decentralized, secure audit-trail in real-time, at every stage.."

Jonathan Stolk, CEO and Founder of Capptions.
---
SignRequest is a cloud-based electronic signature solution that enables clients to sign electronic documents online using the client's legally binding digital signature without the hassle of having to print, sign and scan. Saving the client's time and money while boosting the processes, speeding up approvals, and ultimately enhancing the sales. It is suitable for businesses of all sizes in any industry. Some of the notable clients from SignRequest that are using our product :
"Using the blockchain for Proof-of-Existence for electronic signatures just makes sense and is already happening. When we researched blockchain platforms, LTO Network stood out in terms of speed, set-up, and capabilities. We are able to include the blockchain transaction identifier directly into our signing logs which are circulated upon signing without the need to wait minutes for confirmations. Next to that, the potential of creating decentralized workflows did the trick to add the LTO Network solution as an option to our users."

Michaël Krens, CTO of SignRequest
---
NEN is THE Dutch Standardization Institute and also a member of ISO. As an organization it is the center of standardization within the Netherlands. NEN helps parties agree to clear and usable terms with each other and to implement these. They also help Dutch companies and parties to make agreements with centers in other countries at an international level. In such cases, strong agreements are important. If safety is at stake, they are even of vital importance. Some of the notable parties that works with NEN that are using our product :
"Innovation is of paramount importance to NEN. This project shows that we are constantly working to improve our services with regard to the application of standards, so as to remain relevant"

Harmen Willemse, Senior Consultant of NEN
---
These are only some of our older clients and integrators as we expect more integrators with more dedicated nodes and transactions to appear on the mainnet in the upcoming months. In some of these new client applications, where LTO Network will  provide the opportunity for anchoring, the LTO blockchain solution will be enabled by default. With others, it will simply be added as an option to be turned on by the clients themselves; all the while new use cases are being developed together with old and new integrators. Stay tuned for more!
Website | Telegram | Twitter | Reddit | LinkedIn | Documentation