Kate Innovations acquires Legalthings B.V. from Firm24
17 February 2021 - KATE Innovations, owned by billionaire John Fentener van Vlissingen acquires LegalThings from Firm24. LegalThings offers real estate companies solutions for digitizing the entire (rental) contract cycle. Together with shareholder BORON, KATE is actively investing in realizing its ambitions within the real estate sector.
With great pride we can unveil the next big move for the LTO Network. KATE innovations has purchased LegalThings B.V. to  use LegalThing's decentralized workflow technology for their customers. KATE Innovation's clientele consists of large banks and notary entities. As many people already know, LegalThings is the biggest integrator for LTO Network and is generating over 50% of all transactions at the moment. The LegalThings software was already being used by real estate companies such as Merin, Stena, M7 Real Estate and is continuously expanding its clientbase. This acquisition by KATE Innovations will help speed up that expansion going forward.
"This is a market that will grow rapidly this year," predicts KATE director Erik Schlooz. According to him, the major banks will increasingly ask their real estate clients to digitize their contracts, due to European regulations. The Rabobank has already started this transition.
KATE now has about 70 employees and expects to double in staff this year. In addition to the Netherlands, KATE is also active in Belgium, Germany, Russia and the United Kingdom, where it collects data for large market parties that facilitate the financial valuation and transactions of commercial real estate.
The acquisition of LegalThings fits in seamlessly with KATE's strategy and ambitions.
KATE already merged with real estate platform Axiom last year, which was acquired from Deloitte Real Estate. In addition to square footage and rental data, Axiom allows property owners to share energy performance data and current valuations of commercial property with banks. In the Netherlands, Axiom's customers include SBR Nexus. This is a partnership of ABN Amro, ING and Rabobank that focuses on data standards and a secure exchange of data between market parties and the banks.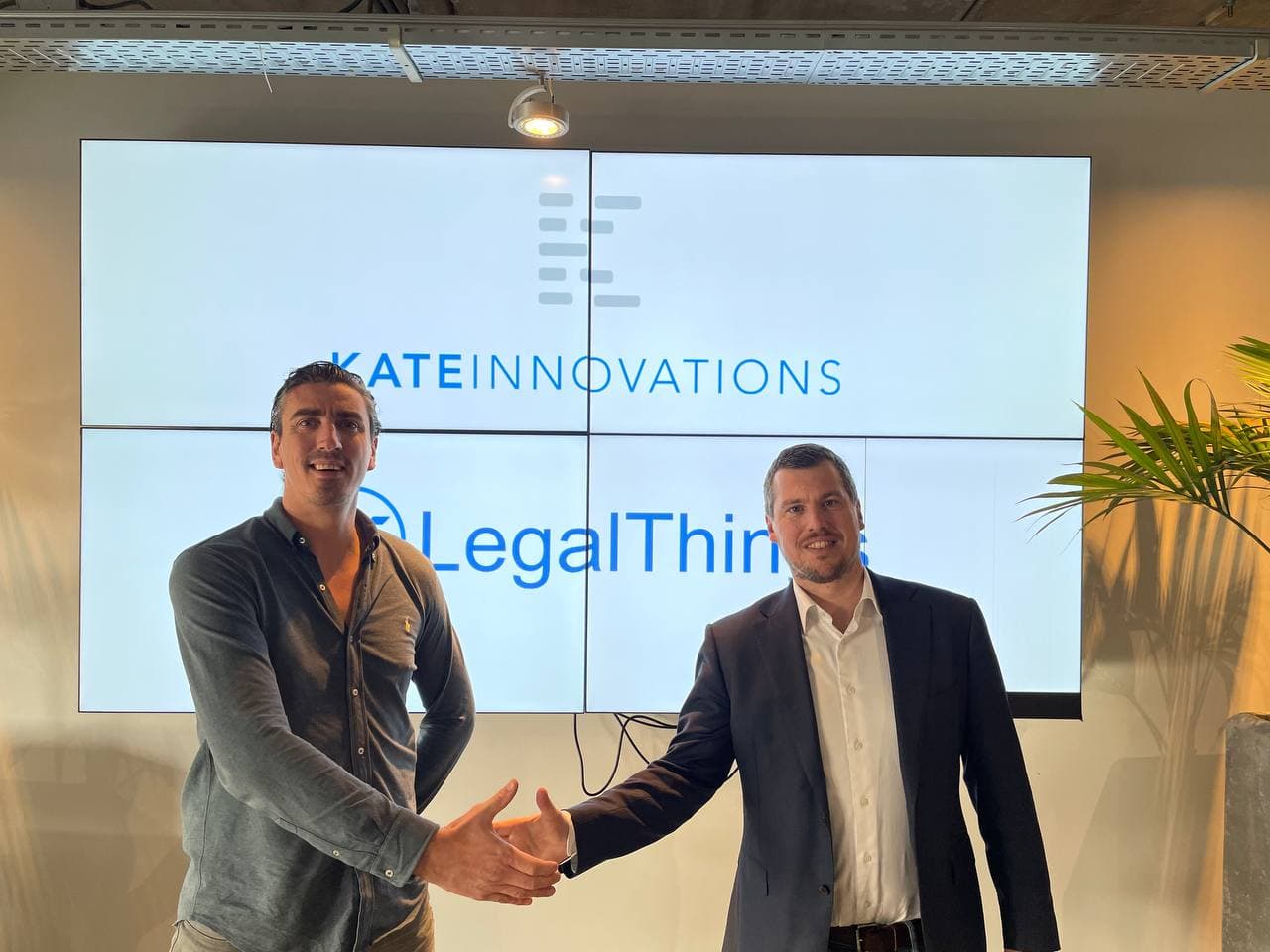 With LegalThings we are not only expanding our services, but we are also strengthening our position as market leader in real estate technology. The LegalThings software will be integrated into our existing platform. This gives owners direct insight into the rental contracts in a dashboard."
Erik Schlooz, CEO KATE Innovations
We are convinced that KATE Innovations will welcome our existing customers with open arms, ensure optimal follow-up and continue to focus on the further development of the platform. Firm24 can therefore confidently focus on expanding to other areas of law in the legaltech space."
Rick Schmitz, CEO of Firm24 & LTO Network
---
About Legalthings

LegalThings was born from a common pain to almost everyone who has worked in a corporate environment: despite working with smart and organized people, we are still spending too much time on process management and reproduction of the same content.With LegalThings, any company is able to automate and digitize the entire contract lifecycle process. By integrating with your existing systems and solutions, LegalThings makes your organization work significantly more efficient, quick and error-proof.Founded by lawyers and software architects and originated as a spin-off from FIRM24, The Netherlands biggest notary platform, LegalThings is currently offered as a white-label solution for every organization that wants to drastically upgrade their digital transaction management.

About KATE Innovations
KATE Innovations was established in 2016 by Rutger Janssen, Erik Schlooz and Roderik Gerritsma out of frustration with the inefficient valuation process of commercial real estate. When it comes to adapting to the digital world of today, the commercial real estate sector is lagging behind. The disruption of this sector calls for innovative changes. The answer to the problem is KATE Innovations. KATE develops software that organises the whole valuation process from A to Z. In this way, real estate companies are able to structure their data, optimise their workflow and develop new and future-proof business models. In addition, KATE offers IT solutions that enhance the collaboration of advisors, banks, and property owners within the ecosystem of the real estate sector.