LTO Network - 2021 Q3 Overview
Summer months are often associated with lower activities as people are having days off and vacation for their holidays. Despite the fact that Covid-19 is still around and impacting people and businesses this year, the team still managed to break new ground. LTO Network has managed to exceed its scheduled goals for this period.
With the final quarter of the year upon us, we are about to step up our game. And by game, we mean business and adoption! Let's dive into a breakdown of what's been going on and what's left to come!

Our recent noteworthy achievements:
---
LTO Network on Blockdata's Spotlight
The problem of identity / authentication is more prevalent when multiple organizations want to exchange information between one another, be that for something as simple as a file or a contract. This requires all parties involved to ask: "Is this a legitimized action? Is this company genuine? How do I trust what they are giving me? Can I verify their signature?"
These questions are highly relevant to businesses of any scale. Enter LTO Network: a globally available network which stores critical information on a blockchain in order to ensure the right data is always available to the appropriate parties.
Read our spotlight on Blockdata on how LTO Network is combining Decentralized Identity & Verifiable Credentials for clients like the United Nations.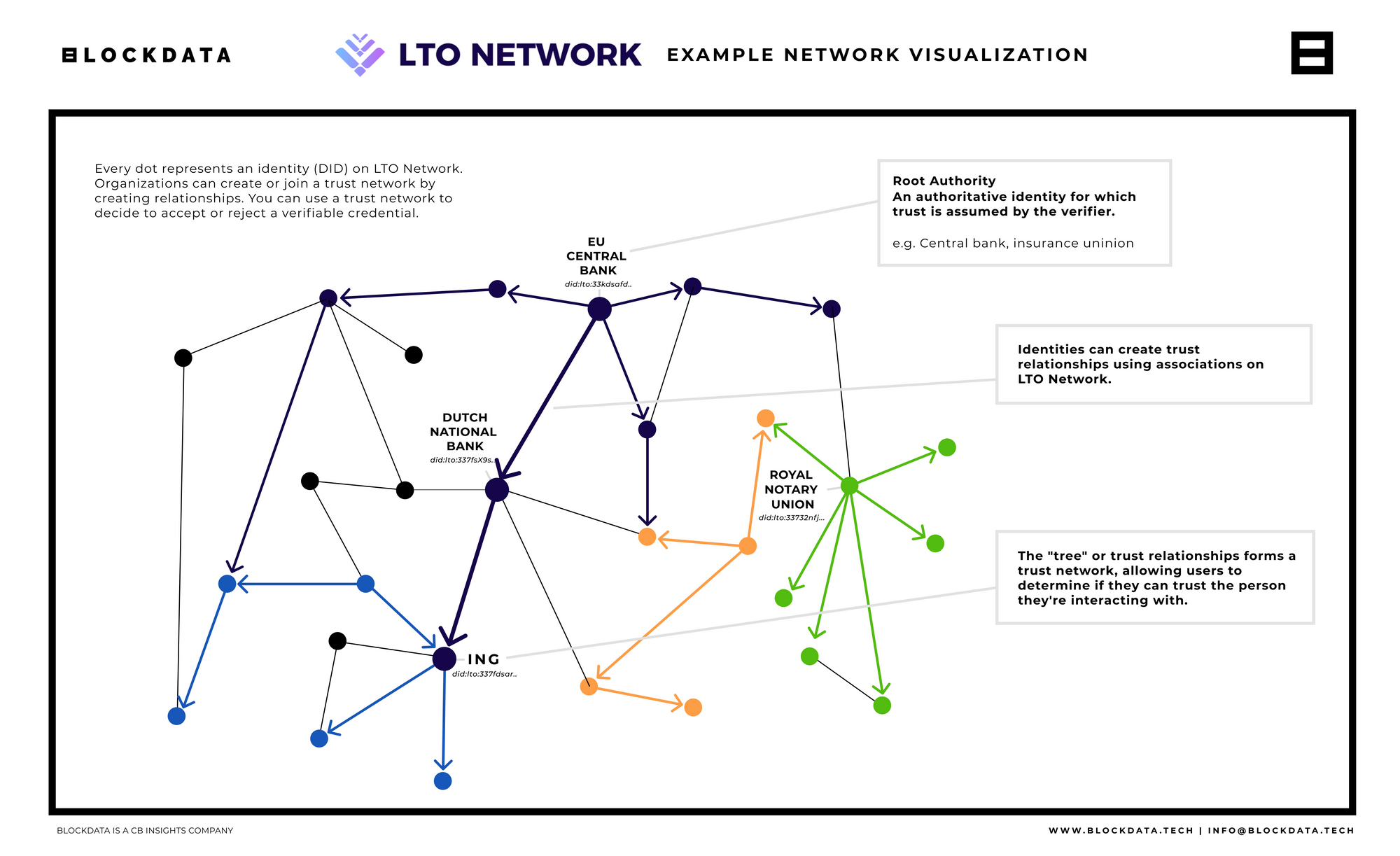 ---
LTO Network at Dutch Blockchain Week
The Dutch Blockchain Coalition (DBC) is a joint venture between government partners, knowledge institutions and industry. The DBC's mission is to advance reliable, robust and socially accepted blockchain applications, create the best possible conditions to allow blockchain applications to arise, and utilize blockchain as a source of trust, welfare, prosperity and security for citizens, companies, institutions and government bodies. For this mission, the DBC is mainly a catalyst and facilitator that activates and connects within a broad public-private network.
Watch the video where our CEO, Rick Schmitz, and Sphereon speak at DBC (Dutch Blockchain Coalition) about Verifiable Credentials & Decentralized Identities use cases and possibilities.
---
LTO Network presents Cobalt Update
The LTO Network is proud to present the Cobalt Mainnet Update. The Cobalt Update is the first step we take toward transforming the LTO Network into a platform for new types of decentralized applications and fulfilling the needs of all stakeholders.  It enables and improves the Decentralized Identifiers, Trust Network and Sponsored Transactions on our network.  
The Cobalt Update focuses on LTO Network as an identity platform, implementing most of the features from the 2021 Roadmap, and puts us firmly on our course towards becoming a chain that provides a globalized solution.
Learn More: https://blog.ltonetwork.com/cobalt-update/

---
LTO listing on Bitvavo
The LTO Network team is proud to announce that LTO tokens are now officially listed and available to trade on the Bitvavo platform, one of Europe's leading digital asset exchanges.
The Bitvavo platform was launched in 2018, with the goal to bridge the gap between traditional currencies and digital assets. Their ambitious, development-focused team, located in Amsterdam, is constantly working on improving and expanding the Bitvavo platform.
By increasing and expanding our exposure this way the team strives to improve the liquidity and decentralization. The adoption game never stops and the LTO Network team will continue to expand the liquidity for the community!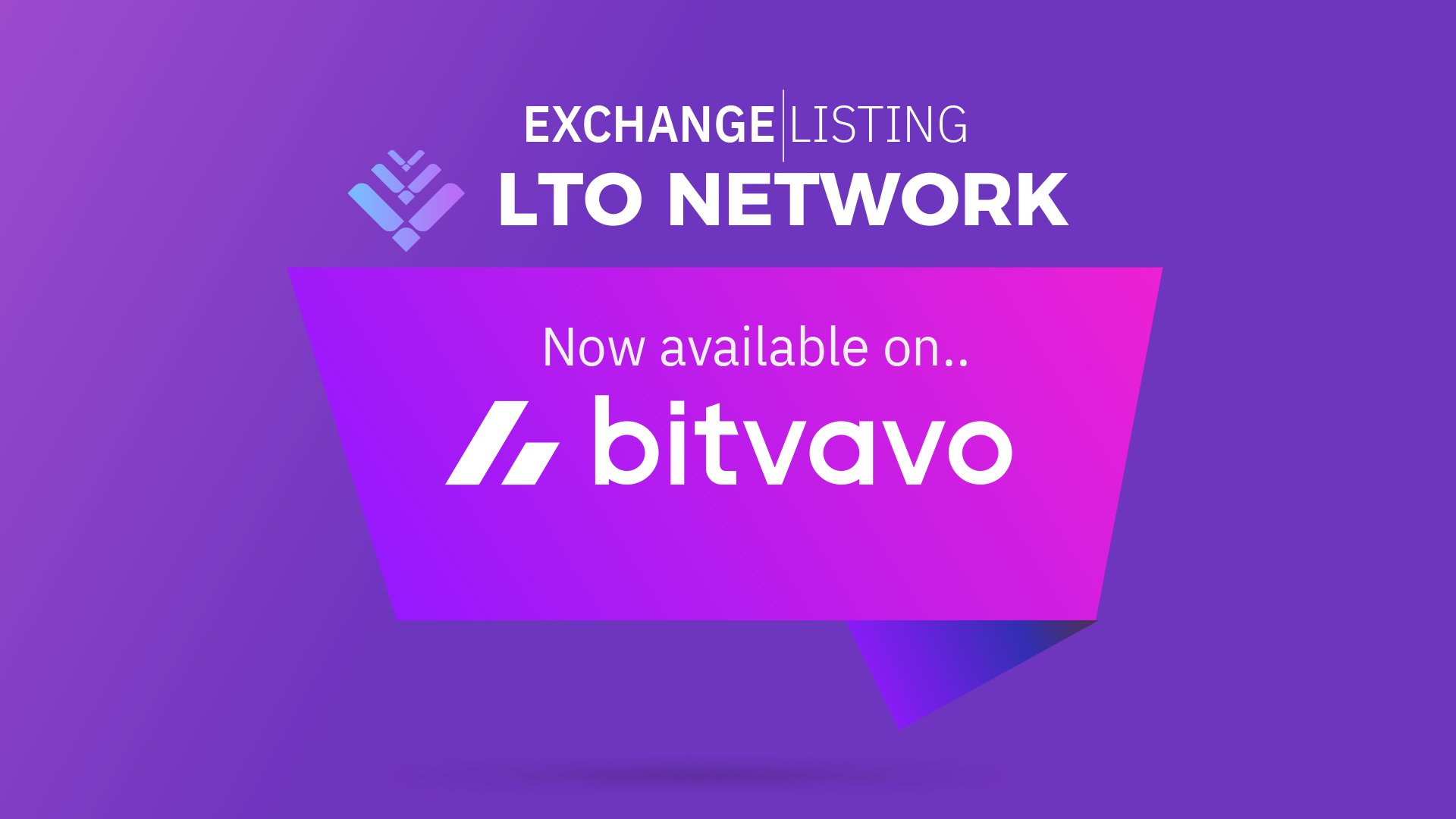 ---
LTO is now available on Ledger
Great news for those who prefer hardware storage! LTO is now available on
Ledger. Token holders can now hold, stake and lease their LTO Mainnet tokens securely from Ledger Nano hardware wallets.
A Ledger device is a hardware wallet. Hardware wallets are highly secure solutions that allow users to store their private keys in the blockchain. Digital assets are safe even when used on an infected or untrusted computer.‌
Learn how to install and use the LTO app on Ledger here.
Please note that this tutorial applies only to Native LTO coins (LTO Mainnet). Do not try to send or receive tokens directly from Ethereum or Binance chains as your funds may be lost forever!‌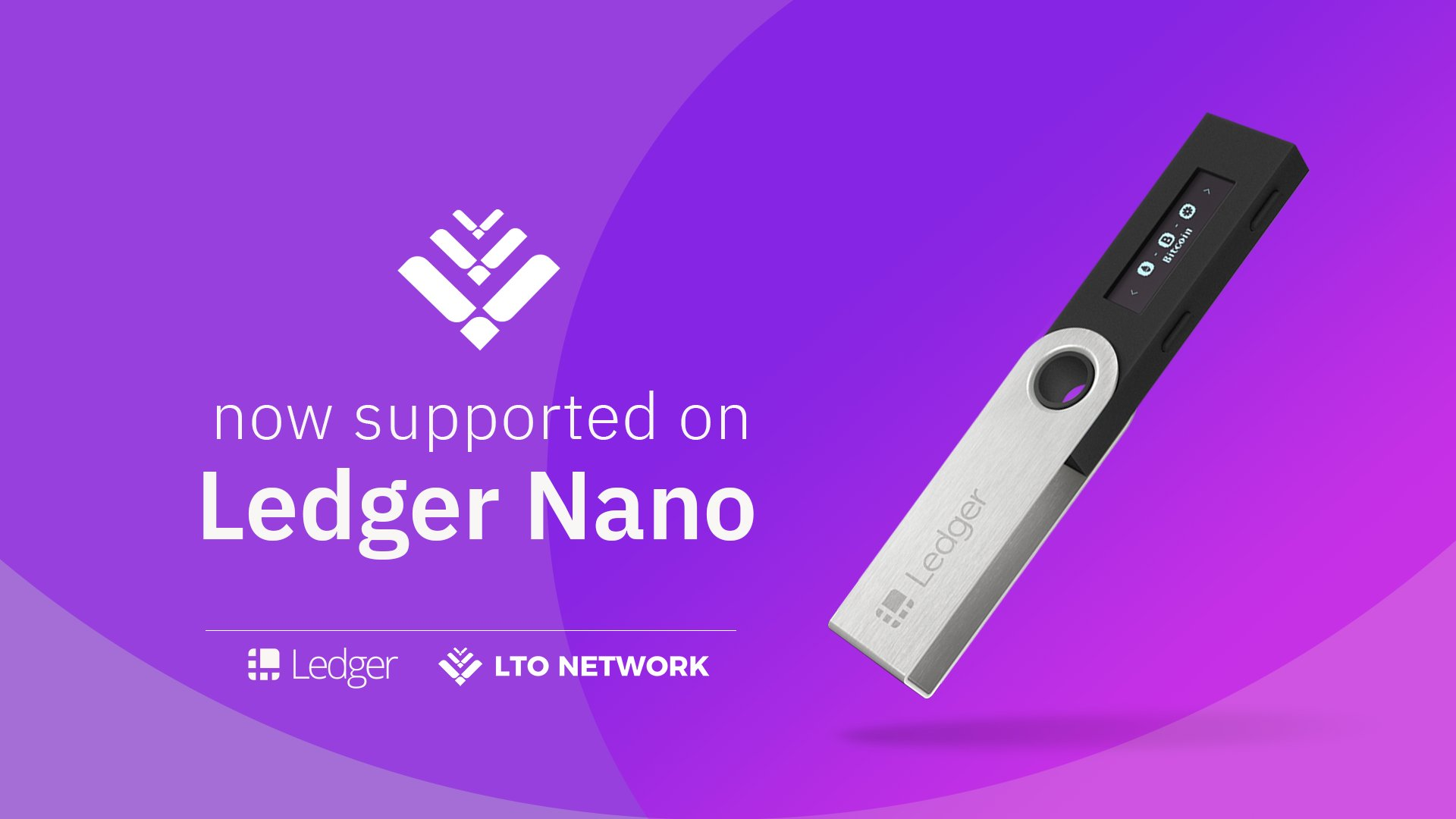 ---
Land Registry use case update from United Nations
Last year, we launched the world's first open-source land registry in collaboration with the United Nations. With the GoLandRegistry project, UN-Habitat is supporting the Government of Afghanistan to leapfrog conventional technologies for land registration and land-based taxation. UN-Habitat has partnered with UNOICT to introduce blockchain technology to improve tenure security and increase municipal revenues to enhance stability, self-reliance and local economic development.
With the United Nations advocating to use blockchain to fight corruption throughout the world, LTO Network is ready to offer its expertise and implement its plug-and-play solutions globally.
Recently, we received an update from the United Nations team, informing us that they are currently running a routine security audit, and upon completion will formalize plans for the release of the source code in the near future.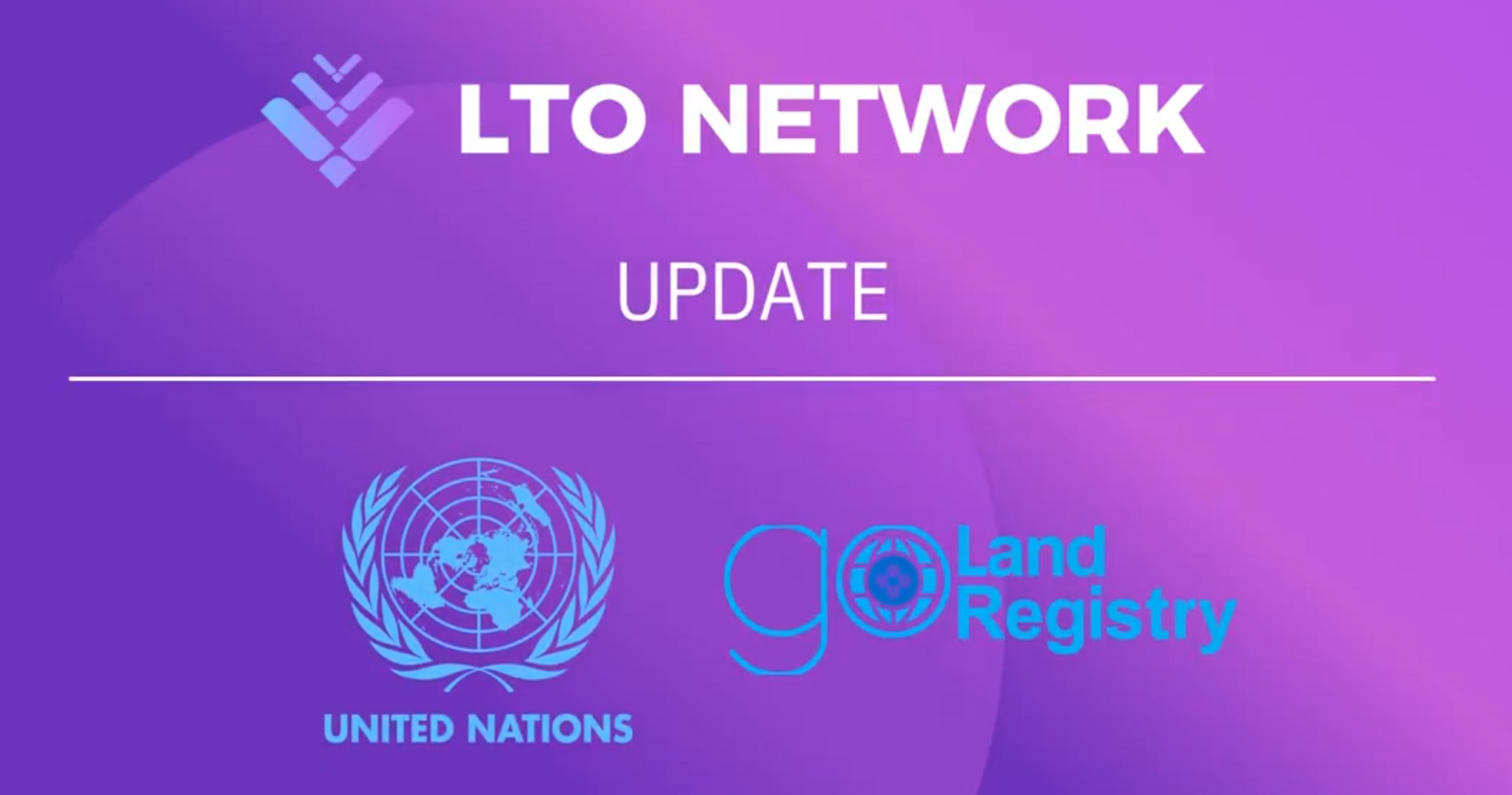 ---
LTO Network and Sphereon Partner With Triall for World's First Application of Blockchain Technology to COVID-19 Clinical Trials
AMSTERDAM, September 7, 2021 (Newswire.com) - Dutch blockchain companies LTO Network and Sphereon have partnered with Triall, experts in the realm of blockchain and clinical research, to deliver the first COVID-19 clinical trials anchored to blockchain technology.
Triall will use LTO Network's blockchain infrastructure to anchor COVID-19 research data, enhancing the safety, security and reliability of research data in the digital era.
Learn more about the use case and partnership here.
---
To conclude, we are on schedule to meet our goals outlined in the 2021 roadmap. In Q3, we increased our exposure on both the business and cryptocurrency fronts. By performing this strategy, we saw an increase in the volume of adoption requests on the blockchain, which provides us with confidence as our company moves towards a successful future. In the final quarter of 2021, our team will continue to increase its blockchain adoption efforts.
We will continue to build, deliver and contribute to this amazing industry!
Sign-up for our newsletter and don't miss any news updates from us! eepurl.com/gO9V2z
Follow us to stay up-to-date with all the latest news & updates about LTO Network!
---
Website | Telegram | Twitter | Reddit | LinkedIn | Facebook | Instagram | Documentation