LTO Network's community expansion plans focusing on B2B in China. Shanghai - SF trip recap © Ivan.
Hi everyone, Ivan here, CMO of LTO Network. This piece is an opinion-strategy one, focusing on community and B2B in China expansion plans. So after reading – share your feedback in the chat.
One project does an event in Seoul and retains a supportive community – and the other project does, what it seems, almost the same thing – but gets forgotten in a day… Yes, the right marketing approach defines the perception of communities. And that approach cannot be only one.
You cannot just do an event in a new city and expect the local community to immediately get interested in your blockchain 3.0 or, in other cases, your "boring" B2B use cases. You are probably pitching them something they have absolutely zero interest in. Every country has its own cuisine, and you first need to learn how to cook. In this article, let's dive into community expansion opportunities and see how we plan to approach it.
But first, I would like to say a few words about my recent Shanghai – San Francisco trip. No worries, 0 USD of company funds were spent on it. I simply couldn't stop working.
Shanghai – San Francisco trip recap. The state of the blockchain adoption & digital assets.
I flew to Shanghai (China) and San Francisco Blockchain Week: met with a few projects working in DeFi sector, business-focused startups, and a couple of Venture Capital firms. My goal was to observe how each category is doing and derive some strategies on LTO Network's expansion. Here are some observations.
Many projects raised during the hype market when VCs were throwing money at literally everything – some still do, simply because they have to "deploy capital". The amount of money flowing into the market was abnormal. Not just that, many teams thought and some still think that "we build it and they will come" is a proper way to go. I am not even talking about the bubble, market cycles, or anything like that – it's more trivial than that. Few properly thought of users or cash flow, the real product USPs, and business models. So what's the outcome?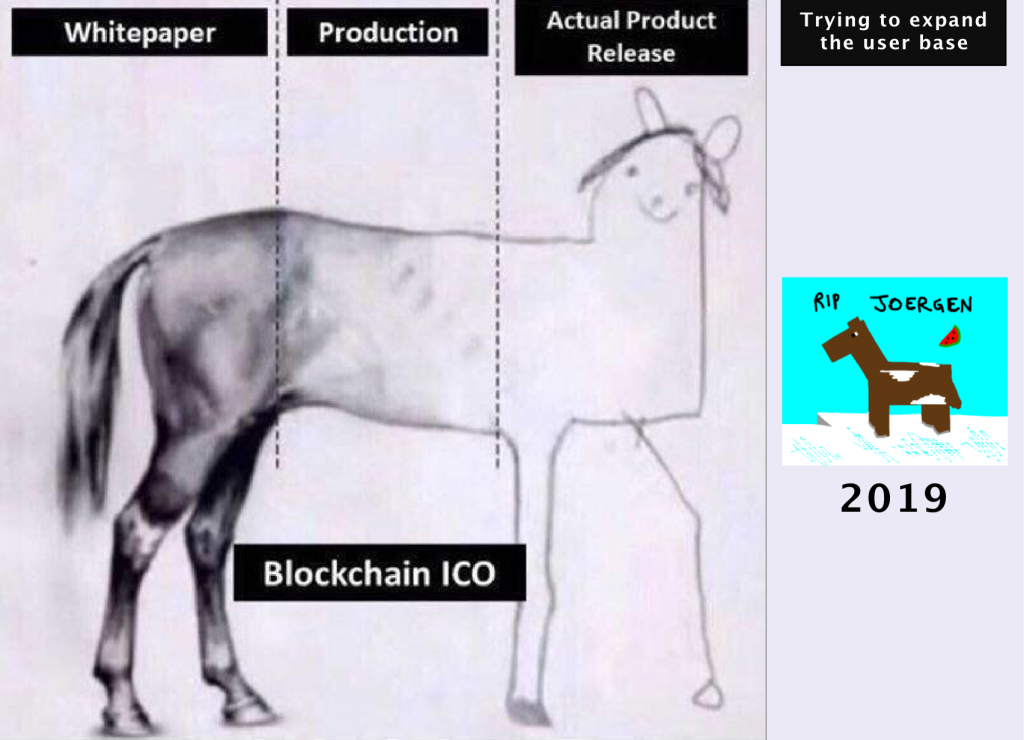 A vast majority of projects found no product-market fit and are quickly running out of money. Thus, they are laying people off or are likely closing down fully in the near future. That is normal for startups, but not so good for the industry. Bigger projects which raised a while ago or just generally raised a lot – are still organizing community events and trying to code. However, they arguably have no idea what end goal or use cases they are building towards. It's an exploration mode mixed with desperation, or at least that's how it seemed to me. Either no definite answer or "we will be faster than Ethereum" – that's really a no-reply, cmon.
As it turned out, building the future is fun, but no one can live without money. A similar situation happened to green energy-focused startups over a decade ago. You need to find a way to build socially responsible products but also be able to sustain the company. It's not pretty for those who are trapped in "no revenue", you can't rely on small subsidies or grants.
Developers have to go back to traditional companies. Small crypto VCs are gone, and the big ones don't invest that much as there is not much cool stuff around anyway. DeFi is the hot thing now that attracts their attention, or rather it did. People see the hype is drying out. It's still an interesting approach and has a future for sure, but building more lending wallets is clearly not the solution. There is not much else hot in the space apart from it anyway.
Cash flow is the king. Whether you have non-paid users and want to put a business model on top of your user base later, whether you are hyping up to raise VC money later… eventually you either have the cash flow or not. That is good for LTO Network, because we knew it from the start, and had it from the start. So where does everyone look into now? Institutions and Enterprises – those are huge markets with a lot of money. It might not be something that's not very "sexy" if you are into assets and "decentralized stuff" like me, but it's something that works.
Exchanges and liquidity providers work on onboarding traditional funds and family offices looking for new asset classes. Why not altcoins? Because a couple of institutions drive as much volume and thus revenue in fees as an entire community of a project. For exchanges, it's much more simple and much less risky to focus on major assets rather than risk reputation with IEOs. In fact, they tried IEOs, but everyone knew that model could not sustain itself. So what is the solution? B2B.
B2B in China: can anyone ride the adoption wave?
Almost every blockchain project started focusing on B2B markets much more recently. What's the sudden change? The "recent" topic of China positively commenting on blockchain technology, for the most part. That move led to more companies looking into the blockchain, municipalities subsidizing projects, VCs becoming more active, and so on. Regardless of one's perception of that news, it brought attention to the blockchain, once again – but in a new light. This time the focus is on the data and business process automation, and not on digital assets.
What's even more apparent is that many projects have realized that there are limited USPs when it comes to end consumers within the cryptocurrency industry because these users still don't care about privacy or self-sovereignty – unfortunately, it's a fact. Also, the user base is very small within the echo-chamber, and it's important to bring in cash flow.
But outside of the echo-chamber, is there anything left? Quite frankly, all the potential is there, outside. Companies continue looking into the technology, doing PoC #3 or #4, and want to invest in business process automation. In fact, this market has a much bigger growth potential.
So what does it lead to, will every blockchain team now be getting huge deals left and right? Not at all. The B2B market is heavily based on trust and reputation. The level of entry is quite high, and the existing players are usually able to get the best deals and have their reputation speak for themselves. New teams can hardly get into this market.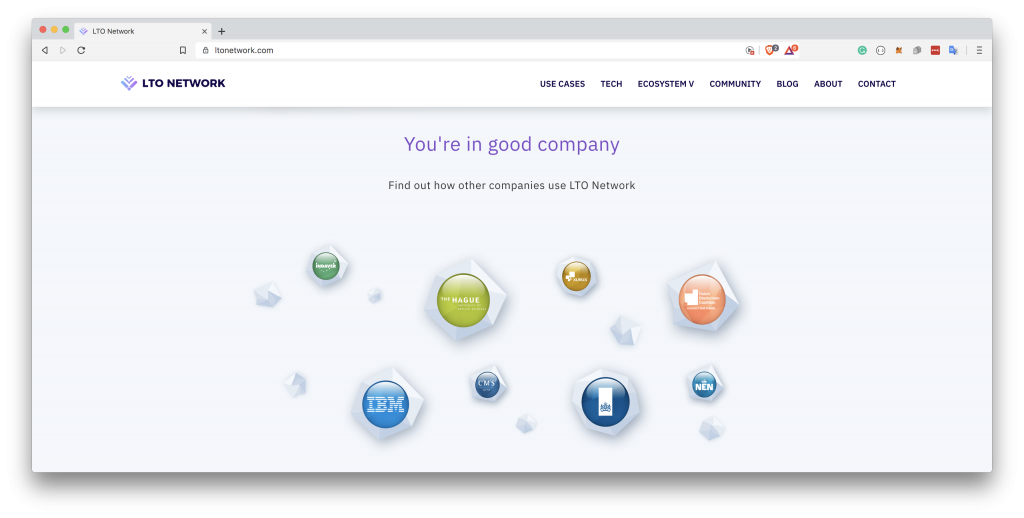 For LTO Network, we have predicted this move and have been in the B2B market since inception. With a number of government deals, ISO Committee networking opportunities, and reputable B2B companies joining the list of partners and clients, we have firmly established ourselves in this field. Check it out in detail. We have been in the market for a while, and have proven our product-market fit, constantly pushing for new releases. Moving this machine further is what we do every day, now focusing on our own product suite, but about that – later.
So that's basically it, the market is trying to catch up with what we envisioned over a year ago. Instead of trying to take down companies, we integrate with them and are able to really capture all that value potential, be it supply chain, digital signatures, insurance cases, and so on.
Launching Chinese translation of the website
LTO刚刚推出了其网站的中文版本。 您可以了解到我们的案例,合作伙伴与客户,技术等。 稍后,我们计划推出俄语,韩语和土耳其语版本。 让我们开始逐步扩大LTO社区!
Let's say LTO Network has a good ground and a solid amount of use cases running and secured in its ecosystem – what's next? Content localization. And we took care of this issue too! LTO Network has just launched the Chinese version of its website. You can learn about use cases, partners and clients, the technology, and more. Later on, we plan to launch the Russian, Korean, and Turkish versions.
Let's keep expanding the community!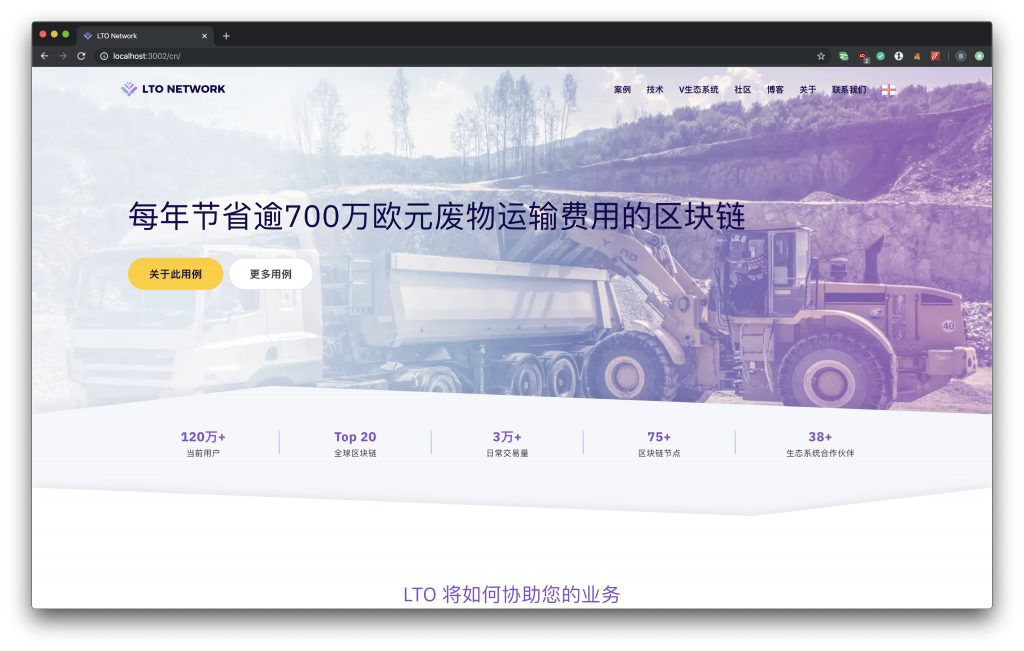 Projects and companies which argue that "we are a global protocol, we won't waste resources on localization" are simply losing a great market share. Asia, and China specifically, is a major market, especially when it comes to the liquidity of digital assets. One should not overlook its importance.
Expanding the team: Chinese-speaking team member
Next to the static information like the website, the community should also be able to learn about the project's updates and have the full information on what's happening out there. But this goes beyond just articles and news pieces. Community building is about maintaining the relationship and having retention of loyal members. This can't come without a native speaker…
Meet Joey Hu [Jiang Jie Hu], our newest team member!
Joey will be working on expanding Ecosystem V in Asia: managing the community, building relationships with projects, and maintaining our presence focusing on China. It's essential to start gradually building trust via constant exposure, so keeping a direct communication line with LTOnauts in China is essential. We are now residing in Telegram, but will make a dedicated WeChat group later as well.

新的开始将迎来新的高度。联手我们会创造奇迹。 很高兴加入LTO队伍!Joey Hu, Ecosystem V – Asia
Please don't try google translate…
Also, growing support in Japan!
Speaking of Asian countries, our exposure in Japan has been gradually growing, thanks to our friend Takeshi. As more people learn about LTO Network, the community gains more trust in the project. Looking forward to expanding in Japan in 2020. Check out some tweets, so cool!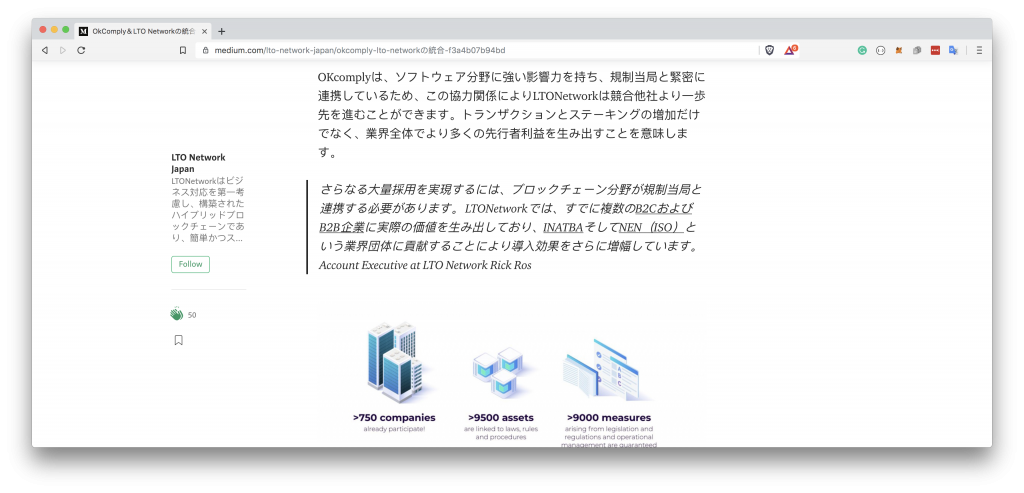 Planning and localizing marketing approaches
"Then why are there no billboards with the LTO Network logo on the streets if you pretend to know what's happening!"
So far the community has been growing organically, and we have been gathering more connections in different countries. This is very important, to approach loyal community-building gradually and systematically. Buying likes and increasing too rapidly at the beginning will hunt you down at some point whether you are trying to grow a community or a company.
Right now, we are cementing our position in the Netherlands, getting more business exposure in Europe in general, meeting potential partners in China and the US. Our plan is to properly plan out the activities in each of the countries with localized materials and strategies.
What exactly does this mean? For instance, you can't start properly building a community in China if you have no exchange where Chinese members can easily trade your token. Also, you can't be preaching about boring B2B use cases to an end-user focused market like Korea where gaming and apps are generally more appreciated by the community: it needs to be more visual. Heard of a chicken airdrop? Yes, that's a thing there too: KYC flying into your house. It might sound very alien to European members, but it's a normal and fun thing for Korean communities.
If you are just to show your GitHub and talk about your research paper in Korea, you most likely won't see much support. On the contrary, US-based VCs are strong believers in research papers and pure coding, thinking that's where the real value is born. Thus, you need to understand which market you are pitching your project in and decide on the strategy accordingly. Of course, timing is of the essence as well, but it's too easy to blame the market.
What's most important is that no community will accept you easily unless you have a strong international brand already or trusted local parties working with you. And that's exactly how we expand. By working with integrators that have already established their reputation in other regions, we are able to tap into their networks. We are here to stay, and we make sure to carefully treat our reputation among business partners and community members. The key is the retention of loyal community members and obtaining more business partners utilizing the LTO Network technology and LTO token.
Going forward with community expansion…
For now, we will be working with our communities to produce more content and gradually translate it into Russian, Vietnamese, Korean, Chinese, Turkish, Indian, and other languages. Next up, we intend to do more AMAs with local influencers and media channels, later leading to community meetups with local projects.
The product-value focus in our branding will persist even stronger. We have more connections in different countries now which we are gradually activating – those are very important markets. Previously that was the case just for volumes and global expansion, but now the governments are even more interested in the blockchain technology application. We have expanded the team by 3 new members. We have more usage coming in every day and previously-announced use cases progressing closer to the production stage.
Very excited for this Q4 and Q1 of next year!
Check LTO Network out on different platforms…