Bridging European and Indian ecosystems: blockchain solutions for enterprises with Matic
Matic Network has kept the crypto community excited throughout 2019 due to countless integrations with gaming applications and payment solutions - supporting developers and aspiring projects all around the world, with the focus on the Indian ecosystem. Today, we are proud to welcome them as LTO Network's technical & business partners - Ecosystem V is growing!
Focusing on the B2B market and products, this collaboration goes beyond a typical crypto partnership. Let's dive into the details...
Stepping it up with B2B blockchain applications
In the crypto world, it's not easy to find meaningful collaborations. That is because most of the products are in the whitepaper stages. For Matic Network and LTO Network, this is not the case. Both projects have managed to achieve success in their respective areas, making it even more appealing to work together.
But what is there in common between plasma and scalability vs a company focused on business processes and data security? That's the trick: software ecosystems evolve based on various complementary integrations and products. Each project and company, specializing on their own tools, are able to get to different user bases and present a more complete and coherent stack-solution. It's all about usage, and together, we are improving it!
Supply Chain: track-and-trace solutions with NFTs
Supply chain has been on the blockchain radar since the very beginning, and it makes sense as the blockchain can add a lot of extra value and security to those processes. Together with Matic Network, we are taking the usual scenario a step further with NFTs, Non-Fungible Tokens.
What LTO Network envisioned and designed previously - is to use Live Contracts to automate supply chain processes on a level-playing field: from issuing to verifying to shipping to selling and transferring. You can read more about it here. What does it help with?
First of all, no one party is in control here: the processes run on a dedicated permissionless private chain, connected to existing systems every actor already uses. Next, the public blockchain is able to guarantee the security of digital data with proof of existence, otherwise known as anchoring.
LTO Network is working with a number of public agents, Capptions, and the Dutch Government - to reduce costs and IT overhaul for waste transportation. See more here.
Now, let's move onto QR codes.
When dealing with luxury products, be it collectible items or vintage wines, QR codes are able to serve as a physical representation. But then what? One can copy it and attach it to another physical item. That's where NFTs come in: by creating an NFT for every specific unique QR code, that NFT is able to "travel" around with every exchange of hands the item goes through proving who is the owner of a product. Here is an example.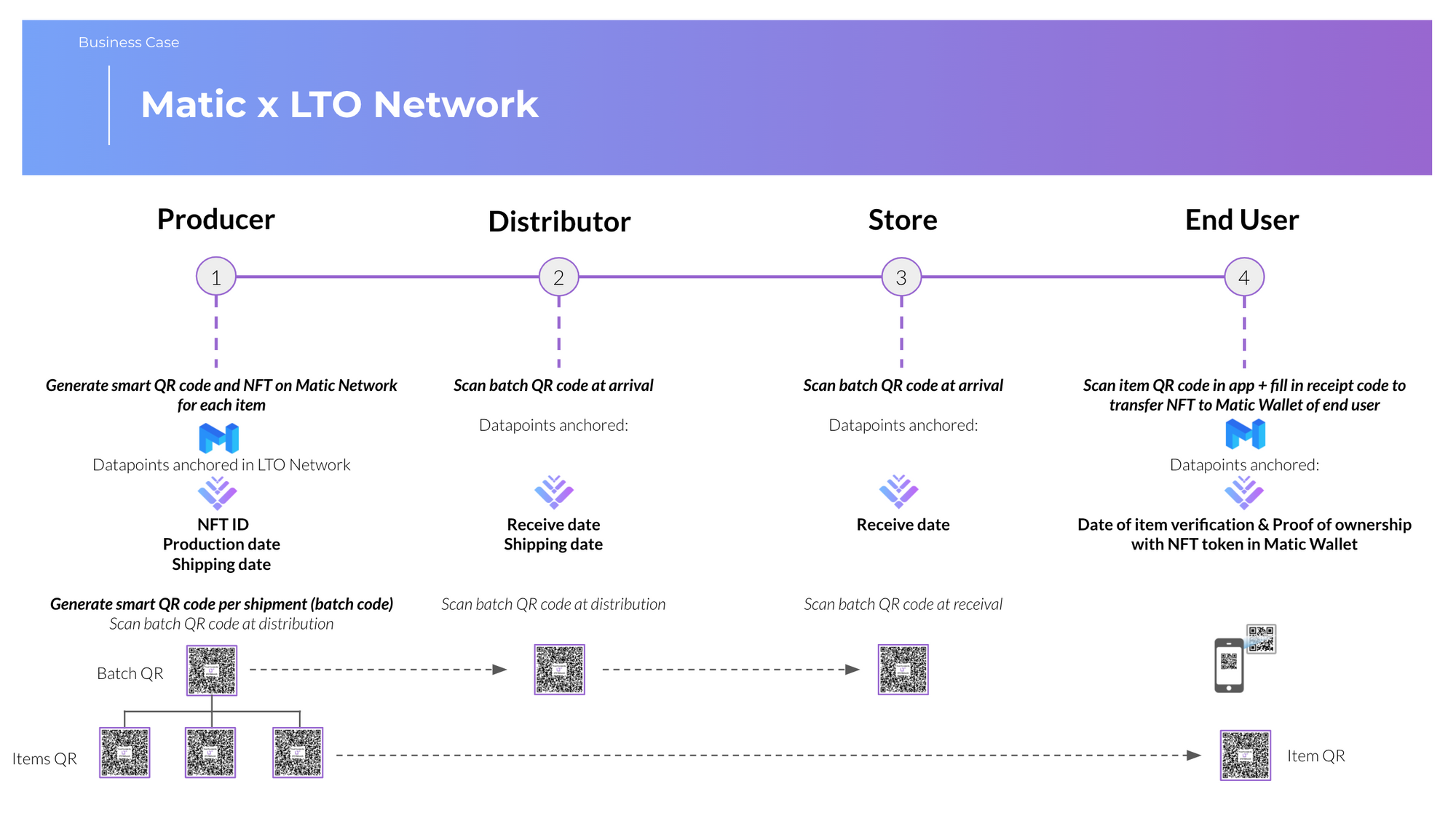 "Combining Matic's fabric-agnostic, high-performance infrastructure with LTO Network's B2B-focused technology presents vast opportunities for the creation of highly impactful blockchain-powered enterprise products. Beginning by disrupting the supply chain industry is the logical first step given the huge market opportunity and broad scope for beneficial disruption."

Sandeep Nailwal, Co-founder & COO of Matic Network
Matic Network has the perfect infrastructure and developer power to make it happen. By connecting different systems, we are able to reach different brands together.
"NFTs are super useful when you connect them to physical products to have proof of ownership. Looking at second-hand luxury goods, we are talking about a USD 27 billion market. Opportunity is huge here. With Matic Network, we tap into a quick and coherent infrastructure as well as a great community"

Rick Schmitz, CEO of LTO Network
---
Bridging Indian and European Blockchain Ecosystems
We are excited to be working on new products together. Starting with the NFT-infused supply chain track-and-trace cases, we will be able to reach more B2B parties and offer it as a solution for luxury goods. Making it possible for teams to interact with the workflow builder, LetsFlow, would be yet another step improving the creation and testing of new blockchain applications.
Furthermore, bridging European and Indian ecosystems will help both communities expand and learn more from successful integrators. Overall, a lot to do - looking forward to the next steps!
---
About Matic Network
Matic Network aims to solve the problems faced by the blockchain ecosystem by building a decentralized platform using an adapted version of the Plasma framework. This provides fast and extremely low-cost transactions with finality on a mainchain. The current working Testnet and Beta-Mainnet of Matic Network operate with Ethereum as their chosen mainchain.
About LTO Network
LTO Network is a hybrid platform focused on the B2B market having achieved the top-25 used blockchain title. With its public blockchain acting as a decentralized notary and the Layer 2 engine enabling process automation, LTO Network helps organizations and enterprises break out of the data silos and unlock a new level of efficiency. GDPR compliant and easy to integrate.
---
Join our communities around the web:
Website | Telegram | Twitter | Reddit | LinkedIn | Documentation