Distributed Workforce. Earn LTO with Social Mining
We believe that a community brings a lot of value, which is why it is the most important part of every cryptocurrency project. We call that community power Distributed Workforce. As the team, we do not just publish updates. We involve the community in growing the ecosystem: network usage, marketing, developing the solutions and tools together – and being rewarded for it. If something seems confusing, just ask – we are all there to help!
Additional: you can earn LTO by running a node and staking.
After the community was bootstrapped, we shited to a more mature and simple stage. The idea of rewards is simple though: send your work to the main chat, and other members will decide if your "work" is cool.
"But WHAT can I be doing?" – depends on your talent!
Table of contents:
---
Goals of Distributed Workforce
Marketing Crew
Thesis: as a community, we should demonstrate to others our serious approach. Try to get new members into the LTO Network community based on the substantial value of the project. Educate others on the value of the token model, business adoption, transactions, and more. Do not resort to moon comments and baseless fights. We are here to create value, remember!
Write articles on tech, adoption, community management, and so on. If you need some inspiration, here are some ideas:
The LTOnaut chat is all about taking the initiative and help LTO community expand and find new community members. Send suggestions to the chat.
---
Tech Lab
Thesis: We have a production-ready product and seamless API experience, you can build tools, integrate anchoring in your applications and help us develop Live Contracts. Tech Chat is there to make your life easier, join!
Do you want to improve the current tools, build your own, or contribute something else? Let's work together! To minimize the amount of redundant work, there are a few helpful things you can find to start. Thus, we can improve on existing tools without re-building every time.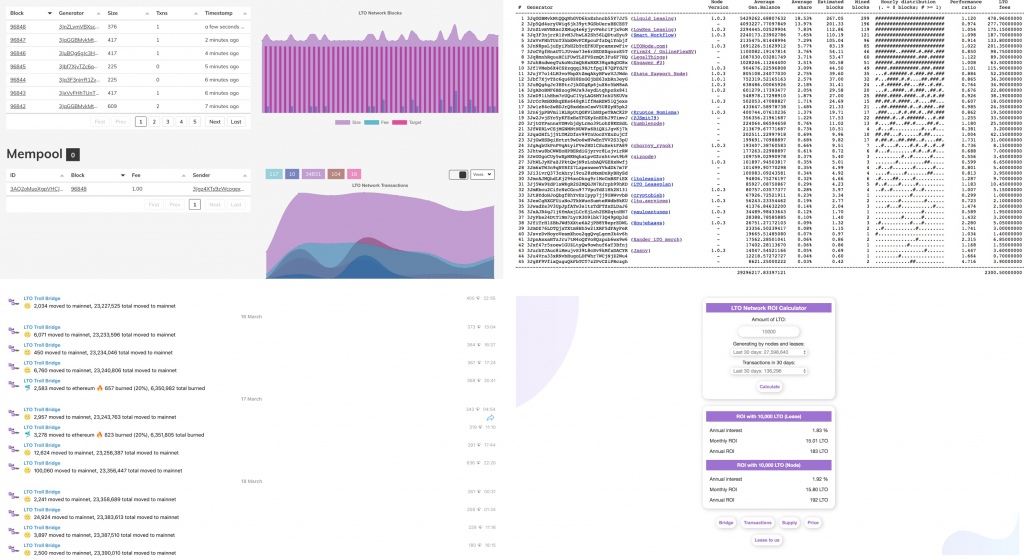 Our community is super talented and has built various cool tools to track network statistics: wallet movements, transaction generators, and so on.
You can build your own tool!‌ Official tools developed by the LTO network team are only blockchain explorer and web wallet. Other tools we have:
---
Business Band
Thesis: introduce to ISVs (Independent Software Providers) and system integrators who want to adopt the LTO Network solutions and build on LTO blockchain. How does this bring value? Solution users actually use the network: buying LTO tokens, paying for transactions, and staking to run net-zero economically. This is the key point about how network value grows.
You can help us get more integrators and clients to build on top of LTO Network. The products are ready to be used. Go to the website – it will give you an understanding of the technology and the use cases. Then:
* This is decided on a case-by-case basis depending on the size of the integration, the nature of a pilot or production-ready engagement and so on.
Potential Clients for LTO Network: Examples
We have two products (engines). Even though we separate them into two products, it's only from the technical perspective. In practice, they applied to the entire DTM market: Proof of Existence (public chain) and Decentralized Workflows (private & public chain).
Proof of Existence. This can be relevant for organizations that work with confidential data like documents/contracts, patents, permits, certificates or diplomas. Example: SignRequest
Decentralized workflows. This is relevant for organizations that collaborate on a single process with multiple parties, have a trust issue and need to validate the actions of each other. Logistics, Transportation, Governments, Insurance, Banking, Legal departments, and public services deal with high administrative burdens can benefit a lot from this technology. Example: Dutch Ministry Transport
System Integrators. Companies that develop web applications that want to integrate blockchain for security reasons (Data integrity). Applications for inspections, documents, KYC, digital signing e.g.. Example: Capptions
IT companies and blockchain consultants. IT companies which build or integrate solutions for big corporates. Organizations that have their own blockchain teams or smaller IT companies (50+ employees) with blockchain focus and experience. Example: AXVECO
Learn more about how business can use the blockchain:
Independent software vendors → Software applications that can anchor data on LTO Layer 1 public permissionless blockchain to secure the integrity of digital data. Here is a detailed business pitch.
System integrators  → Companies and providers utilizing LTO Layer 2 decentralized workflow engine to automate processes and solve the issues of data silos. Here is a detailed business pitch.
---