Update June 6, 2019: Game of Nodes takes a new course!
Multiple clients are flowing into the LTO lands, and it's up to you to protect them! Forge your weapons and gather around. Only the strongest one will stand. Unite your community, build the biggest node and win awesome prizes!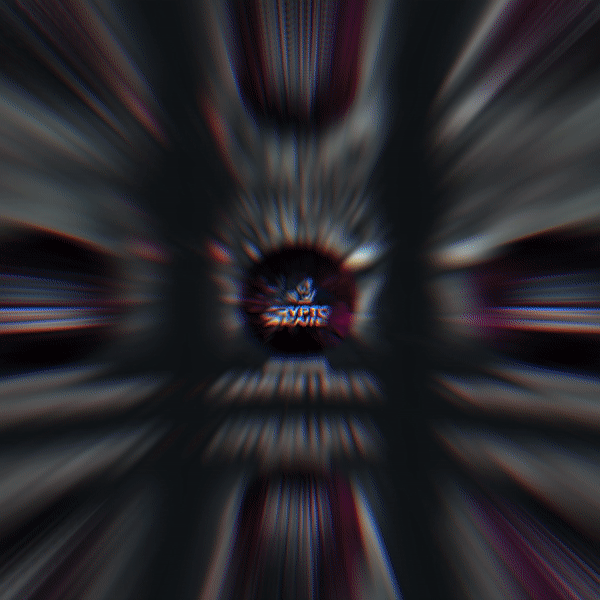 It's simple actually. Choose a node you like the most, lease (delegate) your LTO to it – at the end, the biggest node wins the grand prize! This Launch Guide will give you a brief intro into Game of Nodes rules.
---
The main Houses protecting LTO lands!
Suppoman, Crypto Arnie, Crypto Zombie, ICO Drops, Lil UZI, Shark CIA, tehMoonWalker, ICO Dog, CryptoDiffer, Wolf Crypto, Monoico, BlackBeard, Top7 ICO, and others… the battle is about to begin!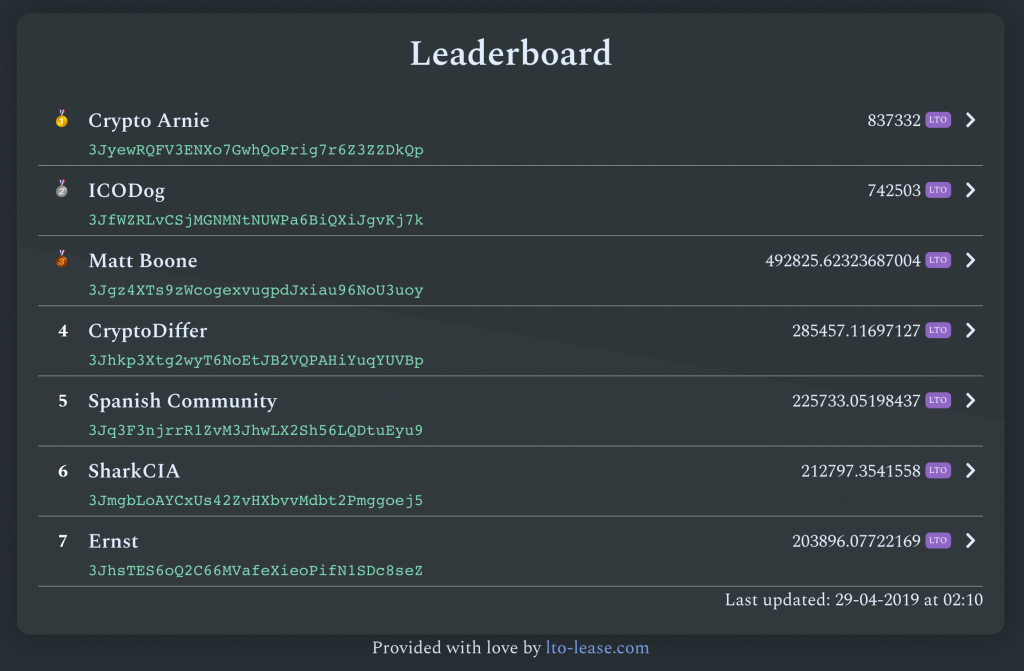 What is the idea of Game of Nodes?
This competition is intended to spread the word about LTO Network and grow the community. We approach this by encouraging influencers to activate their followers and work together with LTO Network on adoption – by participating in network consensus. The idea is to introduce more members to LTO technology, by giving them a chance to run a node, stake, lease, build tools, help with marketing or business development.
With Game of Nodes, it's all about network participation. Meaning putting your LTO to use in order to secure the network. We have a super active and supportive community, so you should consider becoming a part of it!
How can I join Game of Nodes?
Anyone can set up an LTO node, it's a permissionless network: you can either run it on a local machine or in a cloud service, it's super easy to set up! For Game of Nodes specifically, we have chosen those who are awarded a 100,000 LTO lease for the duration of the game. It's in the T&Cs.
Community leases pre-announcement on April 15 are not taken into account. If a lease leaves the node, it's counted as a negative. This way, we try to keep the rules equal for everybody: community has a slight kickstart, and the nodes with influence get an extra temporary lease from the LTO Foundation.
This is essentially how you start your "House" and become the lord of it. Your House is your node address. The size depends on the amount staked and leased LTO to it. See how it already from the start: some whales did not engage before but are now taking part in the consensus of the network!
The bigger your house is, the more chances you have to win the grand prizes. Quite simple, right? You can grow it either by making your own stake larger or by getting more community members to lease to you. Although the network is permissionless, it would probably make sense to join one of the Houses and help it get stronger. Read about leasing below.
I am a House, how can I win?
Well, just like in the series (all similarities are just a coincidence, of course!) – you can use anything. Bribe the smaller houses, promise them a part of your new throne, merge with other houses… do whatever you want! Your community is your army after all. And if you are part of that army yourself, work together with your peers and drive your House to victory!
What are the prizes?
We have two types of prizes: the final grand prizes at the end of a 3-month competition, and the intermediary prizes: to encourage new members to be more active and grow their Houses.
Highest leased amount on May 28th
Top 10 on the leaderboard: 2.000 LTO
Top 5 on the leaderboard: 5 t-shirts
Highest leased amount on June 28th
Top 10 on the leaderboard: 3.000 LTO
Top 5 on the leaderboard: 5 hoodies
Final prizes:
1st place: 50.000 LTO
2nd place: 35.000 LTO
3rd place: 25.000 LTO
4th place: 15.000 LTO
How do I lease? Is it safe?
Leasing is like delegating or voting – you don't actually send the tokens to anybody else, it's just a vote. The only risk is that a node might not give you rewards – but then everybody just stops leasing 😉 And no, it's not like DPOS, it's in a fully permissionless setting, no over-watchers who can block your path to becoming a validator.
Go to wallet.LTO.network/start
Create your wallet and save your seed phrase. Remember, this is just a client, we do not store or know your keys! Hence there is no 2FA because you are always in control of your own funds.
Go to Leasing and send to the node address you want to lease to. Done! Keep in mind the leasing transaction and the cancellation of leasing are like normal transfers, so they cost 1 LTO.

Where do I get mainnet LTO?
LTO exists both as ERC-20 token and Mainnet coin. The total supply is simply being split into two different sides, where the bridge makes the flow possible. These are the same LTO tokens, but simply exist on different blockchains (1:1) .  You will probably want to read more info here.
Go to wallet.LTO.network/start
Create your wallet and save your seed phrase. Remember, this is just a client, we do not store or know your keys! Hence there is no 2FA because you are always in control of your own funds.
Go to Bridge and follow the instructions. What the bridge does is creates an intermediary address on the ERC-20 side and then mints-burns LTO in order to have them transported to the other blockchain – LTO mainnet. The process takes less than a minute.
PS: Make sure to read about Bridge Troll fees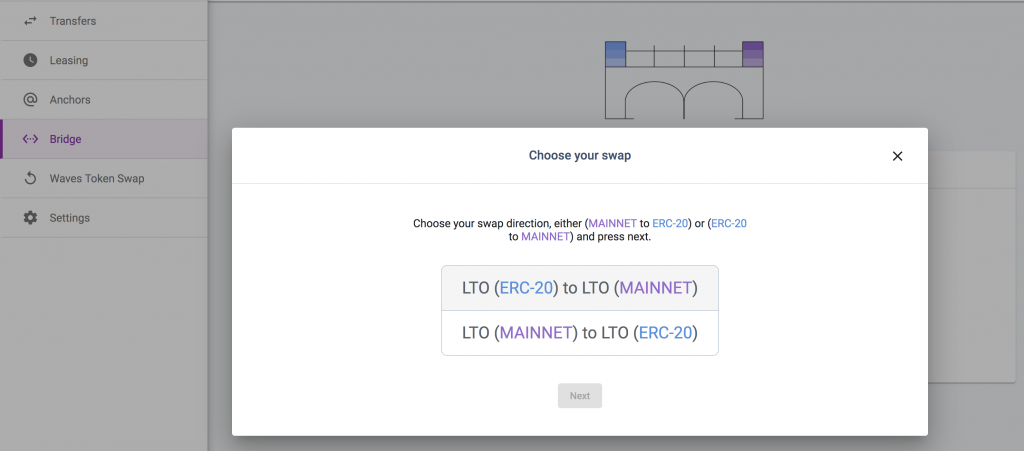 Where are transactions coming from?
LTO Network has been live with mainnet since January 2019, but with a long history of success even before that. SignRequest (one of Europe's leading digital signing providers) Dutch and German governments, Dutch Ministries, Capptions, as well as many other integrators and clients. All using the token and work within LTO Network ecosystem.
According to on-chain activity, we are in top-20 of blockchains in terms of usage, just 3 months after launch! You can read about our approach here.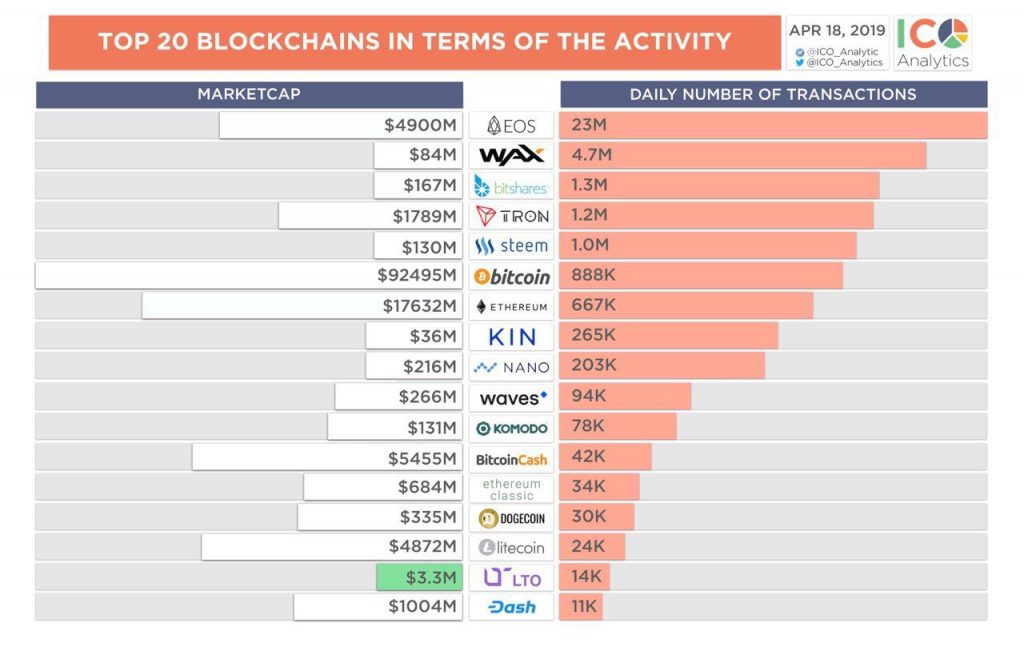 What is the staking ROI?
There is no network inflation, mining rewards are the transactions fees paid by network users. They can be coming from normal transfers, but around 99% of them are anchoring transactions resulting from clients and integrators using LTO Network engines.
Therefore, staking ROI varies around 3-5% these days. It can go down or lower depending on the amount of staked and network activity. Keep in mind those are not extra-created inflationary rewards – you constantly increase your % of total supply and presence in the network this way.
Here is the community calculator.
Want to ask something? Shoot us a question!
We engage with the community 24/7. Not just engage, we involve the community in decision-making, work side by side on adoption, and reward for it too. We have a live solution, multiple integrators, full transparency on our operations and a lot of cool memes and stickers. If you did not find an answer, want to ask some questions – join our Telegram chat and we will help you.