LTO Network January 2023 Recap .
TABLE OF CONTENTS
1.0  - Introduction
2.0  - January 2023 Operations
3.0 - 2023 Roadmap
4.0 - 2023 Roadmap Community Hub Recap (Dev Team AMA)
5.0  - Developments
6.0  - Dev Team Update
7.0  - Community Awards
8.0  - Conclusion
1.0  - Introduction
LTO Network has been making waves in the blockchain industry, and January 2023 was no exception. This past month has seen significant developments.
In this recap, we will dive into all the notable events, updates, and highlights of January 2023 and what they could mean for the future of the LTO Network.
Let's have a look!
2.0  - January 2023 Operations
In the first month of 2023, clients performed 1,620,877 Operations on the LTO Network blockchain.
3.0 - 2023 Roadmap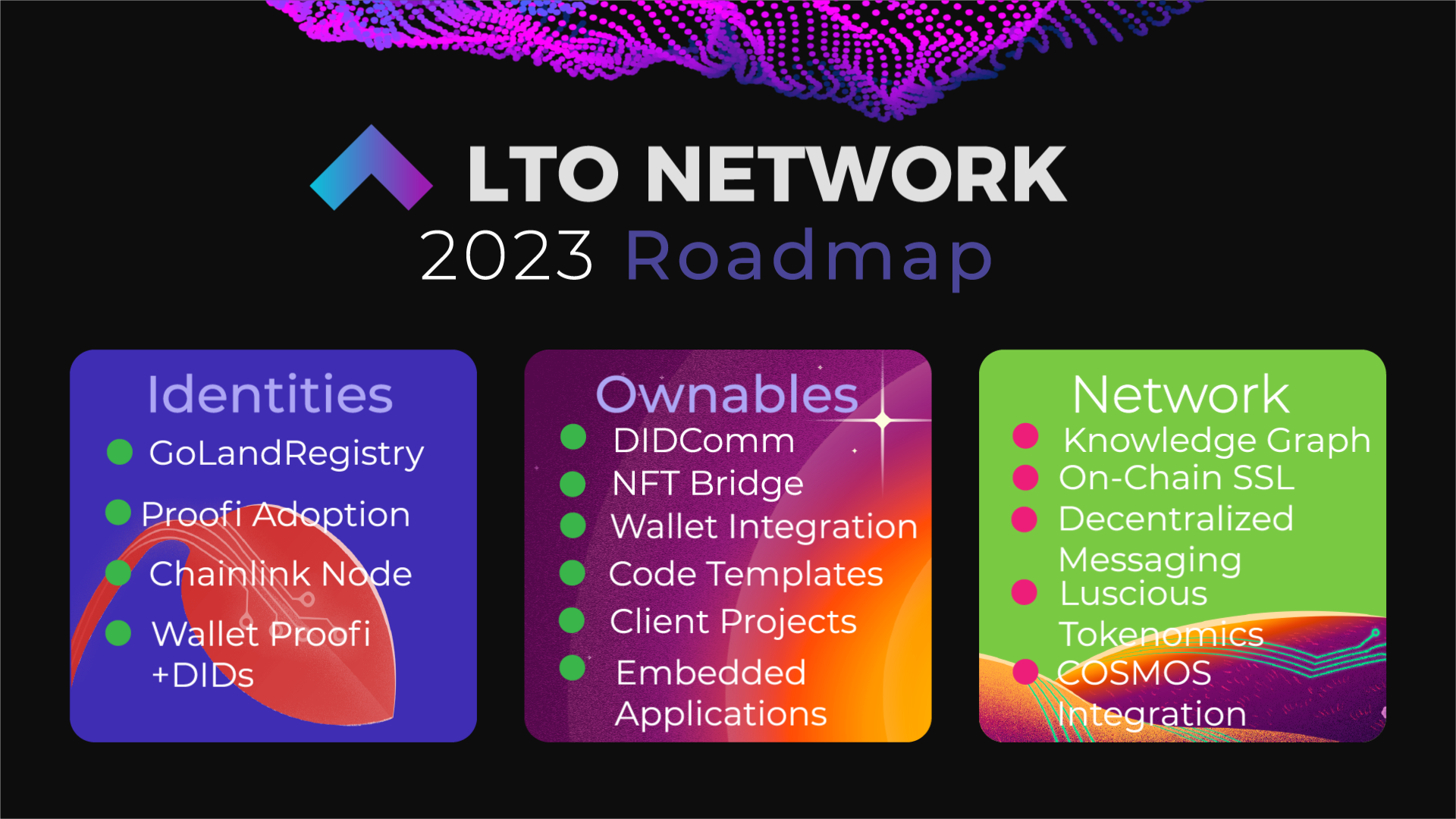 The ambitious 2023 Roadmap outlines the main objectives and shares the vision and goals of LTO Network for this year and beyond.
4.0 - 2023 Roadmap Community Hub Recap (Dev Team AMA)
Our committed Dev Team offered transparent answers to the communities most burning questions and some exciting glimpses into the future of LTO Network.
Read the full recap here: blog.ltonetwork.com/2023-roadmap-community-hub-recap/
Dev Team represented by:
Arnold Daniels — (Chief Architect — LTO Network)
Benas — (Developer — LTO Network)
Andre — (Developer — LTO Network)
5.0  -  Developments
Development Update & Progress
. Proofi 1.0 - Complete
. Ownables Public Alpha - In progress
. Universal Wallet - In progress
6.0  - Dev Team Update
· The Dev Team is preparing a fictional NFT demo to test Proofi in a real-world scenario.
· The Ownables Bridge is being developed.
· The team has discussed a formal planning phase for the Cosmos integration
· Work on the GoLandRegistry project continues and is currently focussed on architectural components.
· Discussions to prioritize the Cosmos integration over releasing the Luscious Tokenomics are currently taking place.
· An Ownables demo for NFT Paris is currently being developed.
· Last but not least: the Testnet Explorer is live!
7.0  - Community Awards
LTO Network held an award show in the official Telegram channel to recognize and reward the most dedicated and engaged members of the LTO Network Community.
Thirteen awardees in eight categories received LTO Network's limited-edition hoodies and t-shirts.
Thank you for being part of this journey!
8.0  - Conclusion
Now that many features of LTO Network's technologies have been fully developed or are close to completion, we are moving much of our internal marketing focus towards B2B. The team is working on strategies to present our products in the best way possible while continuously pursuing new use cases.
As LTO Network continues to grow and evolve, we expect our products to shape the blockchain landscape alongside the most innovative and thriving projects.
About LTO Network
LTO Network is Europe's most advanced blockchain - fully decentralized and highly efficient. It is already being used worldwide by businesses, governments, institutions like the UN, the Dutch government, and more.
The network offers several technologies to provide solutions for decentralized data security, digital identities, privacy, and the ownership of digital assets and digital collectibles.
Stay up to date with LTO Network - Twitter | Telegram | Reddit | YouTube Facebook | Instagram | LinkedIn | Github |.