LTO Network - Q3 ~ Q4 of 2020
Autumn months are often associated with lower activity as people are returning from their holidays. In addition, Covid-19 had a huge impact on people and businesses this year. This was not the case for the LTO Network team, nor our community. In fact, LTO Network managed to exceed its scheduled activities in this period. With End of the year soon upon us, we are about to step up our game. And by game, we mean business! Let's dive into the summary of what's been going and what's left to come!
Together, we:
Became one of the most used blockchain with over 80,000 daily transactions
Broke the ATH of daily transaction activities 3 times in the past month
Grew the network to over 5000 token holders
Setup our first treasury pool
Are going to launch a liquidity program on Uniswap
Are revealing major clients with real world adoption
Are releasing a new technical litepaper / roadmap
Simply sit back, relax and enjoy the show!
---
Real world adoption

We follow a concrete formula: create value with LTO solutions and capture that value with the LTO token. And our value is clearly recognized by companies and business partners as every month more of them adopt the products and integrate them into every day processes.
NEN certificates on smart QR code
The initial rollout of these smart QR Codes (provided by ScanTrust) supported certificates was in June 2020. The ISO standard certification process was initially implemented within BettyBlocks, a centralized solution. It then evolved to LTO Network's Live Certificates, where it now runs smoothly on the LTO blockchain. Fast forward to present day and we've reached the point where all newly-issued certificates are directly being anchored onto LTO Network's mainnet. NEN has now implemented over 200 certificate structures onto LTO, across more than 10 different industries including: Labor & Safety, IT, Construction, Security and many more. Within each of these structures, certifiers (people/companies) are active to process all the different requests coming in from the industry. Additional certification structures will be making the transition to LTO Network's blockchain over time.

Using secure, uncopyable QR codes and blockchain technology, NEN is now powered with transparency into their supply chains and has the ability to directly engage in meaningful, two-way conversations with their end-consumers. Updates and changes to the certificates are automatically linked to smart QR codes, which are re-recorded (hashed) on the blockchain platform in direct correspondence to NEN's Certificate Registration System. This way, if you use "hashed" QR codes, the validity of a certificate can be verified by anyone at any time with a push of a button.

Corona Safety Indicator sensors in collaboration with V-ID and IBM
The Dutch blockchain company V-ID and IBM entered into a partnership to help reduce the risk of COVID-19 in badly ventilated spaces. It was an ideal addition to help within their Internet of Environment's goal of analysing environmental data from a fine grid of measurement points. Whereas V-ID is providing a smooth interface for users to interact with and LTO Network is the backend of the solution securing the integrity of the digital data on its blockchain.

This indicator, manufactured by Factory Lab, will greatly help in the battle against Covid-19 by measuring the air quality in a room. The resulting data will pass through the VIDT Datalink architecture where it is anchored on the IBM Hyperledger and LTO Network blockchain for data integrity purposes.This process proves that all data is pristine and untouched by any nefarious actors who may have a vested interest in manipulating the data for political or cost-saving ends. The IBM Watson supercomputer then analyzes the data, looking for patterns and trends which will help it to make accurate predictions.

Integrators
Another way of getting LTO Network adopted is working with companies who specialize in software integration for different clients, instead of having a system of their own. This means we need to educate those on what benefits LTO network has, how to work with the toolkit, and so on. Next to our existing integrators like Boston Consulting Group, Capptions, SignRequest and many more, we also announced Sphereon as one of our latest integrators back in July.
Sphereon was incorporated in 2016 with the goal to create trust in a digital world through scalable security applications. Sphereon builds solutions in co-creation with software developers, system integrators and corporates. They help integrate current business systems with various blockchain technologies through their Sphereon Gateway using standard plug-ins and APIs. And that's where LTO Network comes in - the API that ensures data integrity and efficient collaboration between multiple stakeholders.
---
On-chain performance

Transactions: one of the top most used blockchain
While there are already many live products and projects, we still have a growing number of use cases in active development that are yet to be deployed into production. In the past couple of months, LTO Network became the one of the most used blockchains in the world, processing over 80,000 daily transactions on average! The transactions are being produced by actual companies, integrators, and their own clients – mostly utilizing anchoring as Proof of Existence for their digital data like workflow steps and digital signatures. The activity growth on the mainnet has outperformed our forecast in the beginning of the year and is exceeding our expectations.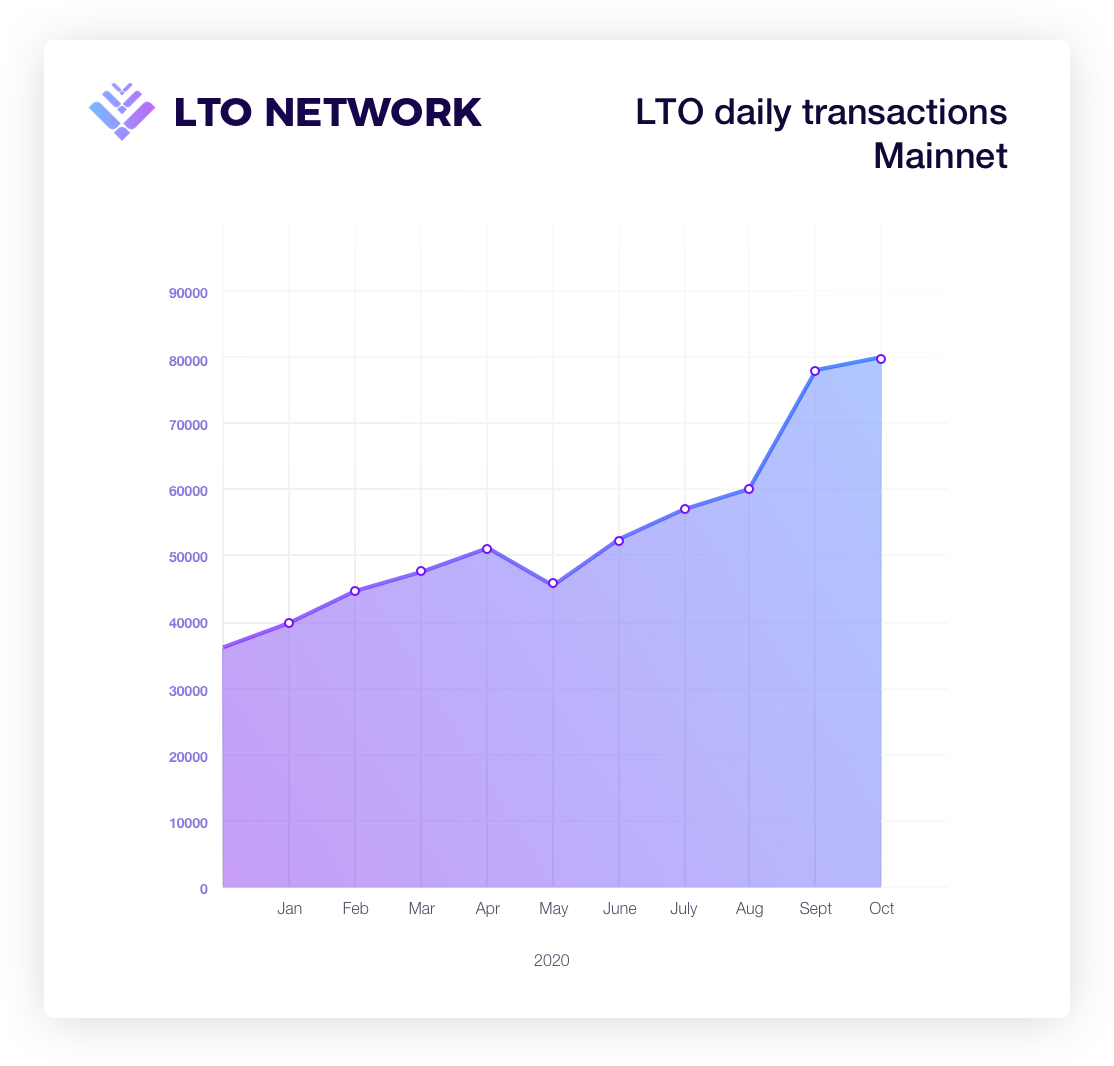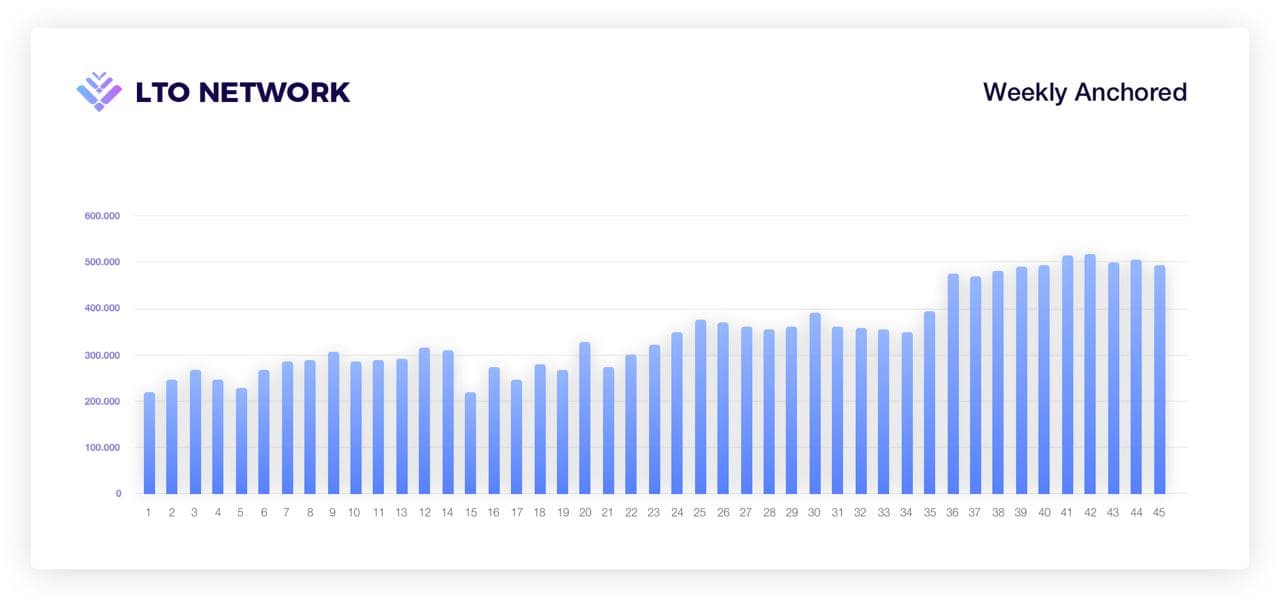 Burned tokens
Earlier this year we proposed to implement a fee-burn model in the token economy of LTO Network and improve LTO's P/E by 50% under the current market cap. In fact, P/E would also count in the burning amount, which further improves the situation long-term. With the burn mechanism active, transactions activity shows a stronger value capture and also provides better secondary market exposure. By drawing in more network investors, additional confidence is given to companies and communities for improved security. At current transaction levels, the burn >1% of circulating supply every year. This will only increase as on-chain activity rises. Since LTO does not have protocol inflation, it makes the LTO's token economics deflationary with regard to the total supply.
Voting for the burn mechanism on mainnet has passed with dominant numbers on August 28th. So far over 500K tokens have been burned since.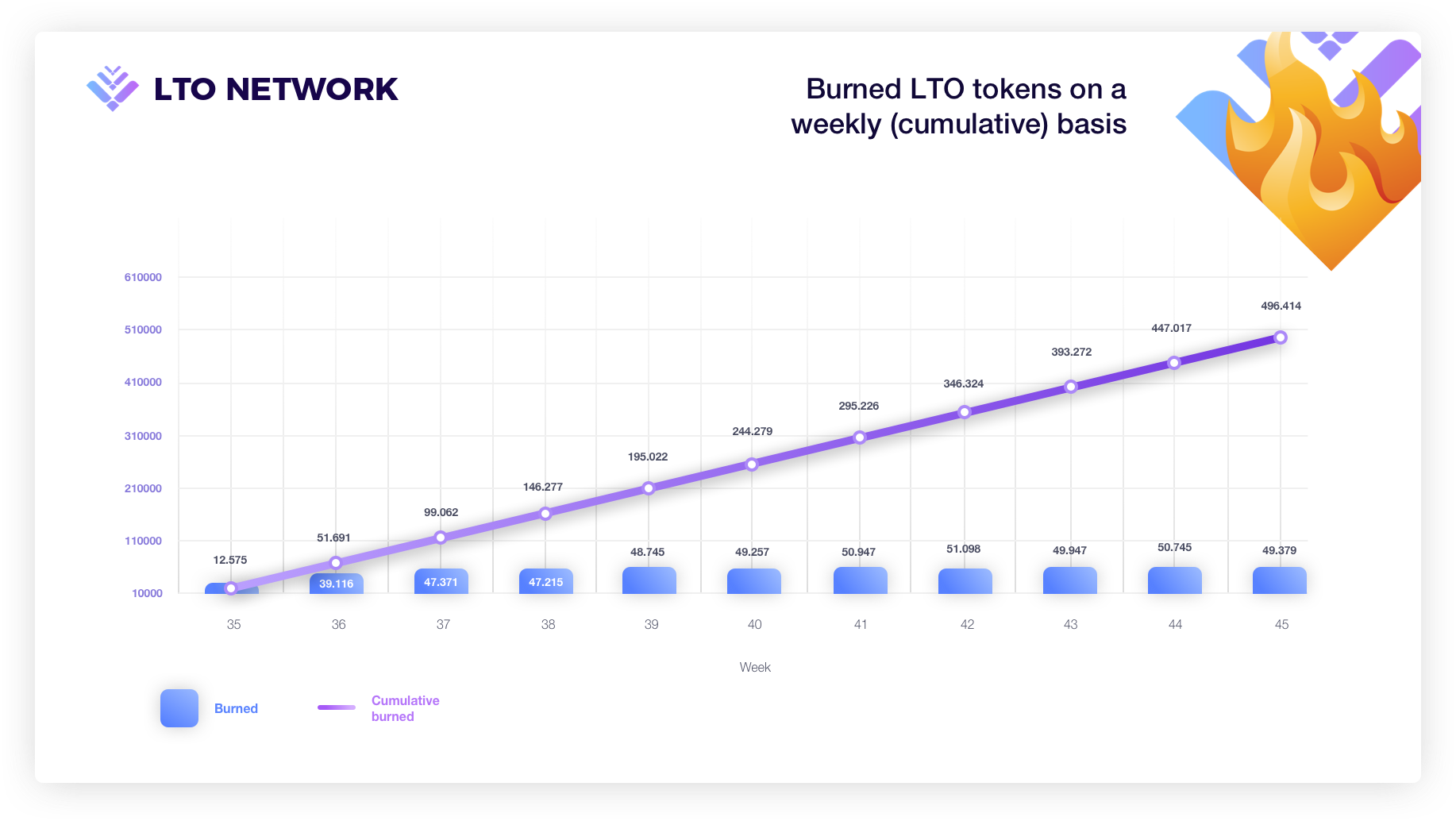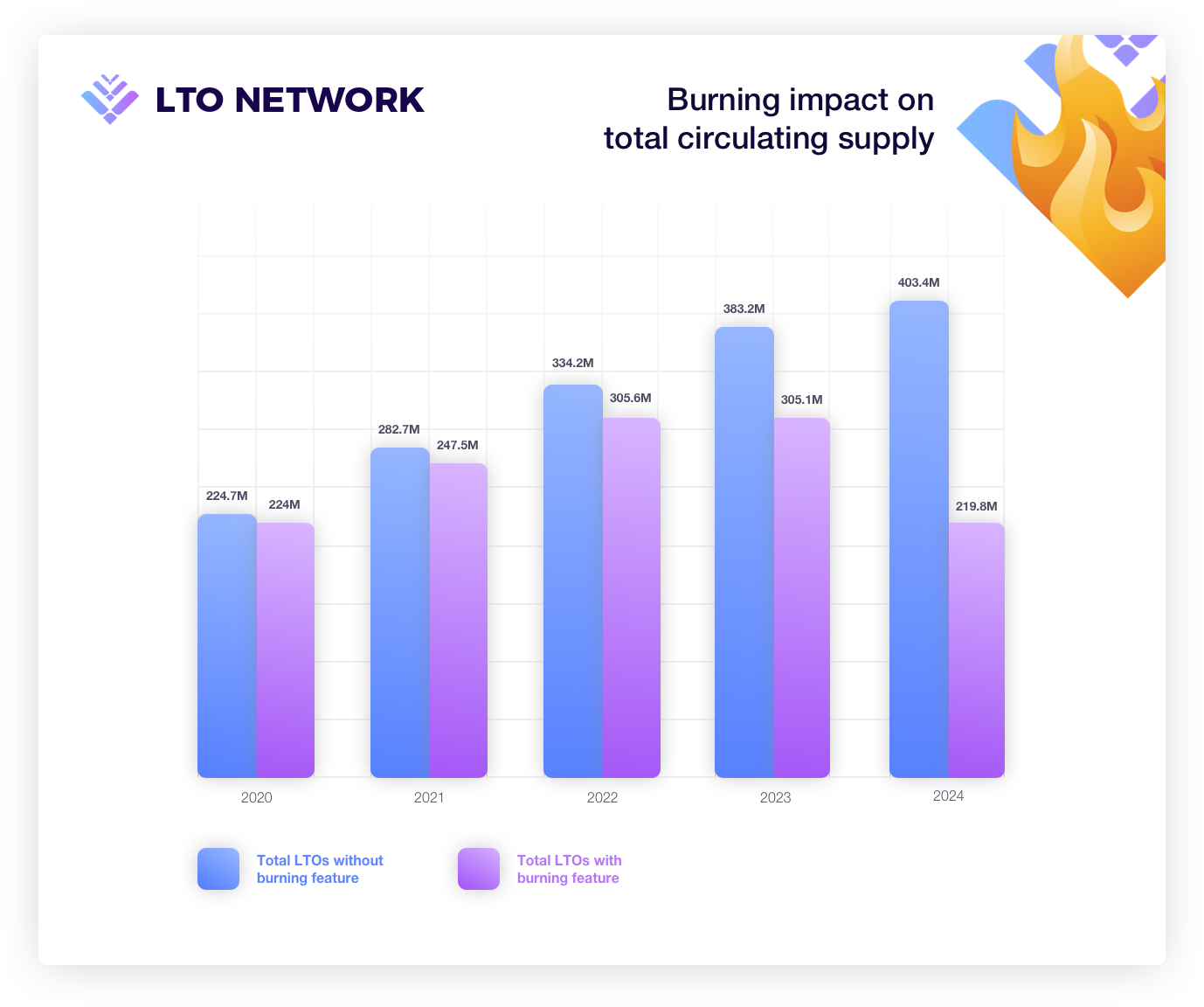 Staking AUM
The staking AUM (assets under management) on the LTO mainnet has been growing crazily. The total staking amount has tripled compared to the beginning of this year, peaking above 114M LTO which is around 47% of the circulating supply.

Token holders : over 5000
More token holders mean a more distributed network! This is better for our Proof of Stake validation system, and better for the more healthy distribution.
Mainnet wallets: 2253
ERC20 wallets: 1888
BEP2 wallets: 1342

---
What's next?

Uniswap Liquidity & LTO Staking Farm
In the final months of 2020, we will finally be launching our own yield farm for LTO, which is non-inflationary compared to the other DeFi farms out there. On 18th of September we released a proposal regarding the Uniswap Liquidity Pool for our community members. After receiving enormous positive feedback from the community, we've decided to add more liquidity to the liquidity pool on Uniswap V2, where anyone can swap tokens and add tokens to a pool to earn fees.
Late to the party, you say? Better late than never!

New major international client
As the majority of our community members are aware, LTO launched a treasury pool  on 21st of October. We have set up our very first treasury pool for one of our clients which will be filled over time. There will be 2.8 million tokens purchased and deposited to the treasury pool. Purchase and deposit will be completed before end of the 2020 and the client with use case will be announced.
A treasury pool is a special type of node that contains a sizable amount of tokens. Those tokens will be purchased and utilized by the client in the near future, when the corresponding use case is live.
Technical litepaper
Last, but not least, the long awaited technical lite paper will make its debut before this year's end. The main subject of our upcoming technical focus? We'll be working on DID (decentralized identity) and SSI (self-sovereign identity)!
---
Website | Telegram | Twitter | Reddit | LinkedIn | Documentation