Merch Contest: LTO Network hoodies!
Everyone loves Merch, especially when it's good. So… "when hoodies?"
With the launch of Ecosystem V, came our updated visual style celebrating the ecosystem coming together in the form of birds, flying in formation. And it's time to get our branding out there!
We put it to the community to propose a set of rules that would make the contest both interesting and rewarding for participants, and this competition is a result of the joint collaboration.
We want to see your best creative thinking, visual finesse and brand awareness in the form of designs suitable for production on a number of different items of merchandise. It will be made available on the Community Merch Store, used as prizes in giveaways, and worn by the team when out representing LTO Network on the road.
Designs can be funny, serious, formal, fashionable or just plain quirky. You'll also have the chance to see your design featured on the Merchandise Store when it goes live!
We're accepting entries right now, and opening the contest up to submissions until October 13.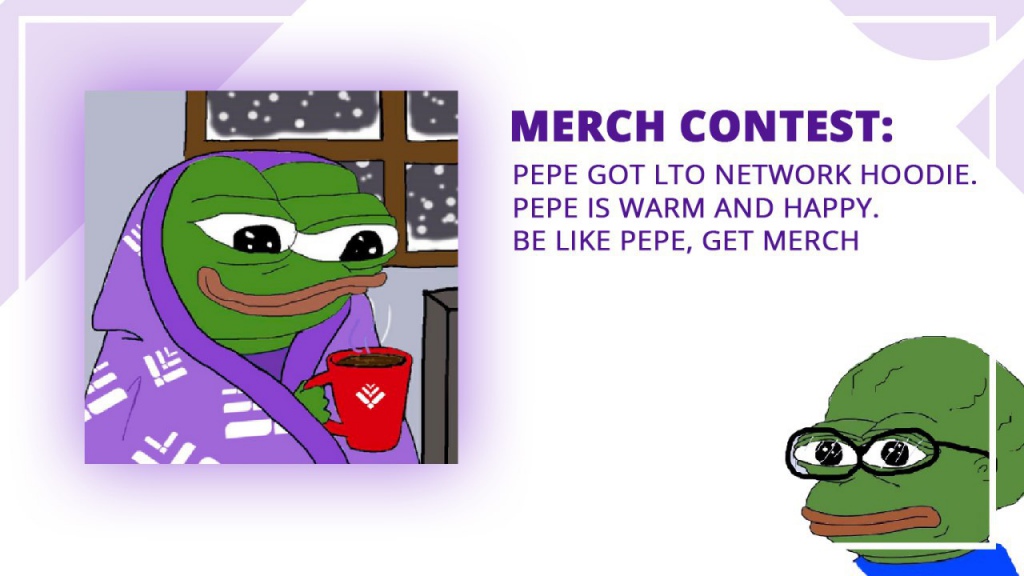 The rules of the Merch Contest are as follows:
1. Submit a design using the new LTO Network branding that's suitable for reproduction on: Tshirts, Hoodies, Caps, Phone Cases, Cushions, and Mugs.
2. Whilst the logo is, of course, LTO Network's, the overall design must be unique to you. It must not use copyrighted material such as stock imagery, clip art, for which you cannot prove it is in the public domain or royalty-free. Find the materials here and ask questions.
3. All designs should be submitted as a Community Activity on the Distributed Workforce DAO Platform in this topic specifically, with a brief description of how you came to the idea, what the idea represents and how it communicates the idea you put across. You can link in the comments under that "Team Request" your cloud storage folder. This way, everyone can check your work out!
Please note it's not allowed to submit contest submissions on the platform as a separate activity. This is a stand-alone contest.
4. Prizes – there will be 5 placed entires:
First Prize – 10000 LTO, a Tshirt and a Hoodie
Second Prize – 6000 LTO, a Tshirt and a Hoodie
Third Prize – 3000 LTO, a Tshirt and a Hoodie
Fourth & Fifth Prize – 1500 LTO each, a Tshirt and a Hoodie
We will try to make it possible for the winners to get merch prizes in their design, depending on the manufacturer details it can only be possible to get the winning design. Will keep you up-to-date!
5. The submitting user gives LTO Network the right to use the design for the purposes of making various goods available for sale via the LTO Network Merch Shop on a non-profit basis, for giveaways, and for marketing purposes. The submitting user will be credited as part of the final design, by attributing their twitter account, telegram handle or name. Being selected as a winner does not guarantee the design will ultimately be featured in the store.
6. Technical Details: Designs should be submitted in PNG Format with Transparency, at least 3000 x 3000 px in size. LTO Network reserves the right to edit as necessary to make suitable for the items they will be printed on and the right to request reasonable revisions where needed.
LTO Network reserve the final right of veto in the event of a dispute, suspicions of manipulation of in the event plagiarism, intellectual property infringement or copyright issues arise.
---
Dates TBC for final submissions, beginning and ending of voting, etc. We might do an external voting committee for the sake of choosing the design or do it fully community-driven only. Stay up-to-date with the news!