Feature 11: sponsored accounts or sponsorship transactions
Hi everyone, we have something technical for you today!
Two new transaction types have recently been voted for on mainnet with over 90% miner support, making it a 2nd ever network upgrade. Those are associations [feature 10] and sponsored accounts [feature 11]. Previously, feature 4 was voted for during summer 2019 at block height 270,000.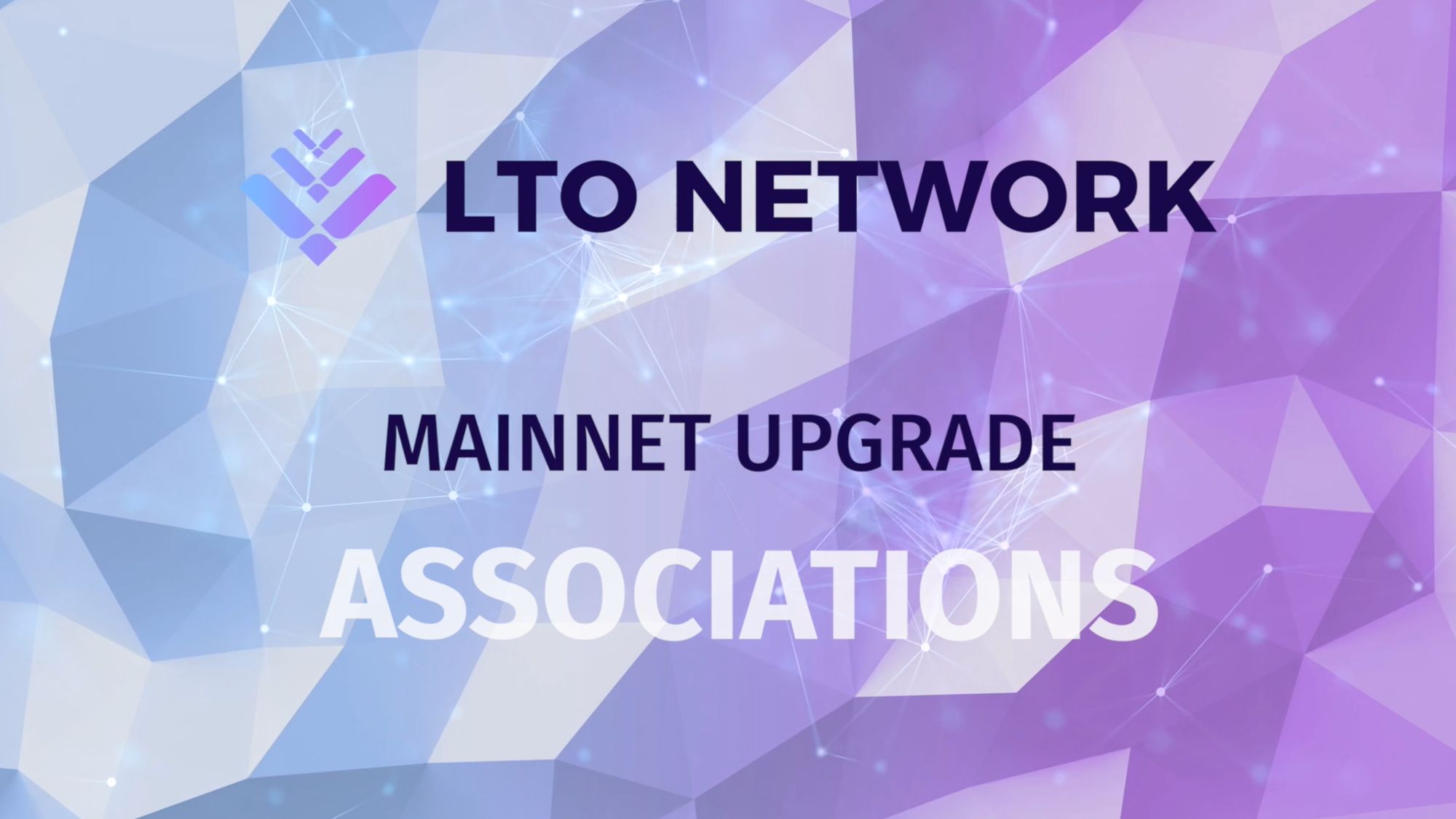 To this day, LTO Network has been live for over 14 months with 703,000 blocks generated. Enough numbers, let's get to the context!
---
While associations have been described in the tech paper and have been on the roadmap, sponsored accounts have been born out of necessity. The feature, sponsored account or sponsorship transactions, allows a sponsor to pay the transaction fees of another address.
Blockchain is a topic with a lot of prejudice. People are either huge enthusiasts or great sceptics. Big projects, with expert opinions and multiple stakeholders, typically deal with both. This means concessions need to be made, as middle ground projects commonly end up using a consortium chain.
Consortium chains often do not provide the benefits that organizations are after. With privacy and immutability depending on governance, the difference between a decentralized and a centralized system is often too small. Instead of reducing costs, the costs are higher, and thus the project fails. This is one of the problems LTO Network is solving with its hybrid architecture.
LTO Network and other members of Ecosystem V are on the frontlines when it comes to showing that a trustless environment is a requirement for success. And that a hybrid blockchain can ensure privacy better than consortium chains because it allows for ad-hoc collaboration.
We've been doing it with great traction;
Nonetheless, it's a difficult pitch where we mitigate as many hurdles as possible. The use of tokens on the network can be such a hurdle. Tokens are associated with speculation. Since they hold their (inherent?) value, organizations can't mark them as costs. This has led organizations to disallow buying and holding tokens.
It's a typical question every project faces: connecting usage and speculation, which are often not working well unless it's intertwined with exchange tokens.
We saw this problem right at the start and had a solution for it in the token paper. And it has been working well! Integrators take up the role as token holder and node operator for all participants of a project, however, that's not always acceptable since it undermines the decentralized nature of the network.
An improvement could have been made. And it has been!
Sponsored accounts detach running a node and doing transactions from holding tokens. Tokens can be managed by a single party for the whole project, without the risk of centralization. In many cases that still won't suffice. There is a clear wish for allowing transaction fees to be paid in fiat. Sponsored accounts give operators of (public) nodes an opportunity to fulfill in this need!
Some facts about sponsorship transactions:
Sponsored account transactions look similar to leasing transactions. You can start sponsoring any account. For any transaction made by that account that's after your transaction, the fee will be subtracted from your account instead of the account signing the transaction.
If the sponsoring account doesn't have enough tokens to pay for the transaction fee, the fee is subtracted from the signing account instead. When both the sponsoring and sponsored account can't pay the fee, the transaction will stay in the tx queue and ultimately fail.
It's possible to sponsor multiple accounts. Any account can also have multiple sponsors. In that case, sponsorships are applied in a LIFO (last in first out) fashion.
Sponsoring doesn't cascade. This means it's not possible to broker a sponsorship. If you sponsor an account, the fees will be applied to your balance, even your account is also being sponsored.
Addresses with a very high number of dummy sponsors, that have a balance of 0 LTO, can increase the workload for nodes. To mitigate abuse, the fee of setting up a sponsored account has been set to 5 LTO.
Sponsorships can be revoked at any time. Transactions made by a sponsored account after the cancel transaction will no longer be applied to the sponsor.
---
With staking AUM, community participation, and the engagement of integrators growing - it's astonishing to see LTO gradually climb to new achievements. Join our builders & supporters! And don't forget to join the Tech Chat.
Website | Telegram | Twitter | Reddit | LinkedIn | Documentation