Token Distribution Update. Extending Lockups. Longer Team Commitment.
From the very beginning, we put a lot of effort into designing the network economy where the token would have actual value capture. 7 months after the launch, as well as 3 years of preparation work, LTO became "top-20 most used blockchain". That was an amazing achievement!
But why does it matter for the community and the token holders? Unlike crypto-to-crypto partnerships, which are usually done simply for marketing, we work with real-world companies and integrators, driving more cash flow into the network. That's right: integrators actually buy and stake LTO to use the network.
This gives LTO token actual utility and value. Onboarding more integrators and software companies increases network usage and thus token cash flow:
an average user pays to his software provider [for example, like SignRequest], which is the usual real-world subscription model
the software provider acquires a stake in the network and pays for transactions generated by their users
transactions fees are shared by network validators who stake and provide this service
Alright, we all already know that Q1-Q2 has been amazing. We have achieved a lot and keep working on expanding the ecosystem, our community exposure, and liquidity. As the LTO Network team is determined to accomplish these goals, we see no reason to have quick token unlocks for us. Therefore, we make changes:
The team is gradually vested over 2 years instead of 9 months
Advisors are vested over 6 months instead of 4 months
Community program monthly release is decreased by 2 times
M&A Fund is locked for a year longer, till 2022
Here is how it was before: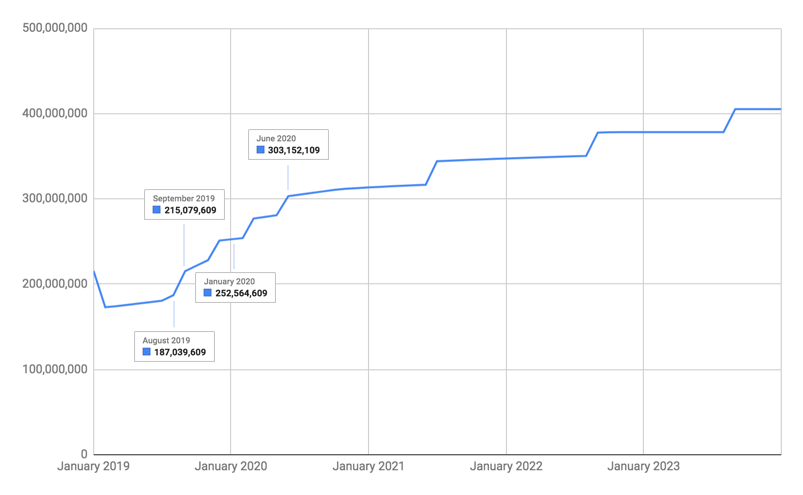 Here is how the changes look like: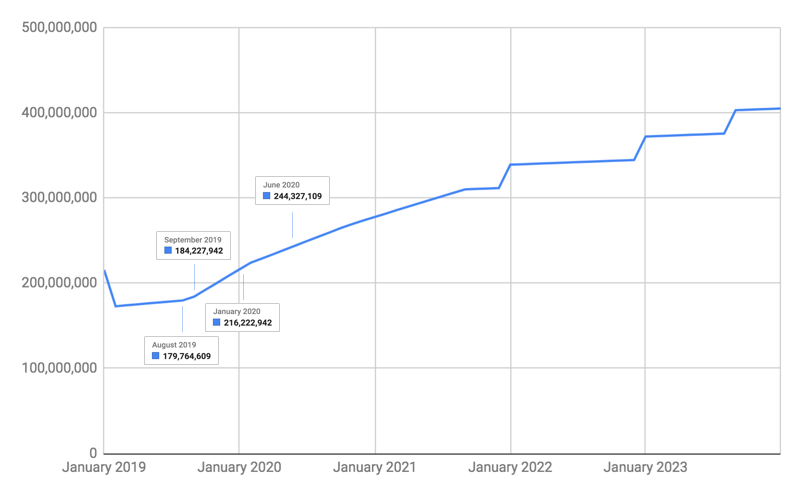 So we are taking this model from our token economy: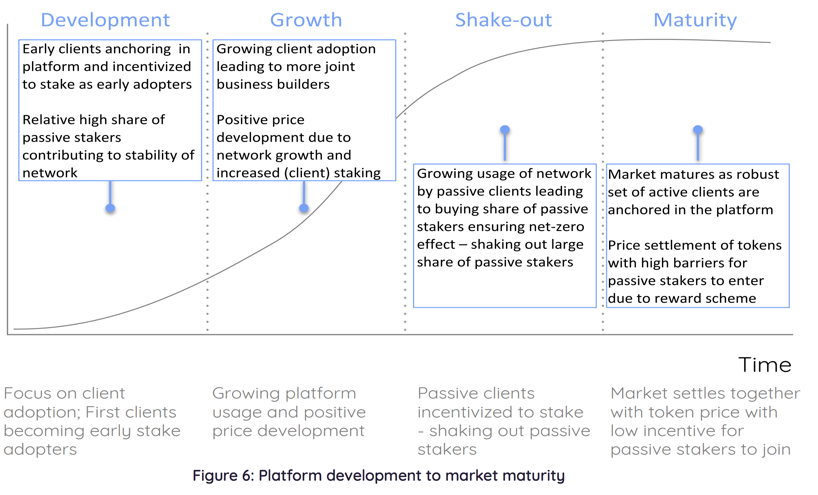 And matching it with token release: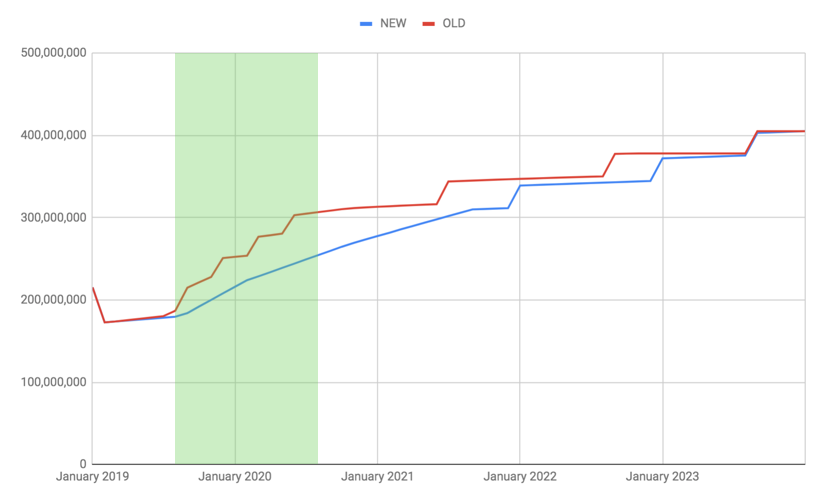 Notice the major differences:
9M less unlocked by August
40M less unlocked by September
35M less unlocked by January
55M less unlocked by June 2020
We believe that this move reinforces the ever-increasing community trust in the network and in the team, and it's an honor to be working alongside so many talented members! Let's keep it going.
---
Full Transparency Report
Update: June 3, Wednesday.  
Foundation tokens, 50M LTO, have been burned.
81M LTO is not actually circulation: they are only released as part of M&A Fund, which means it is not inflation. 53M out of the remaining supply released only for community activities which contribute to network growth. Effectively, the majority of the supply is already liquid.
Here is an up-to-date sheet with numbers, click to see.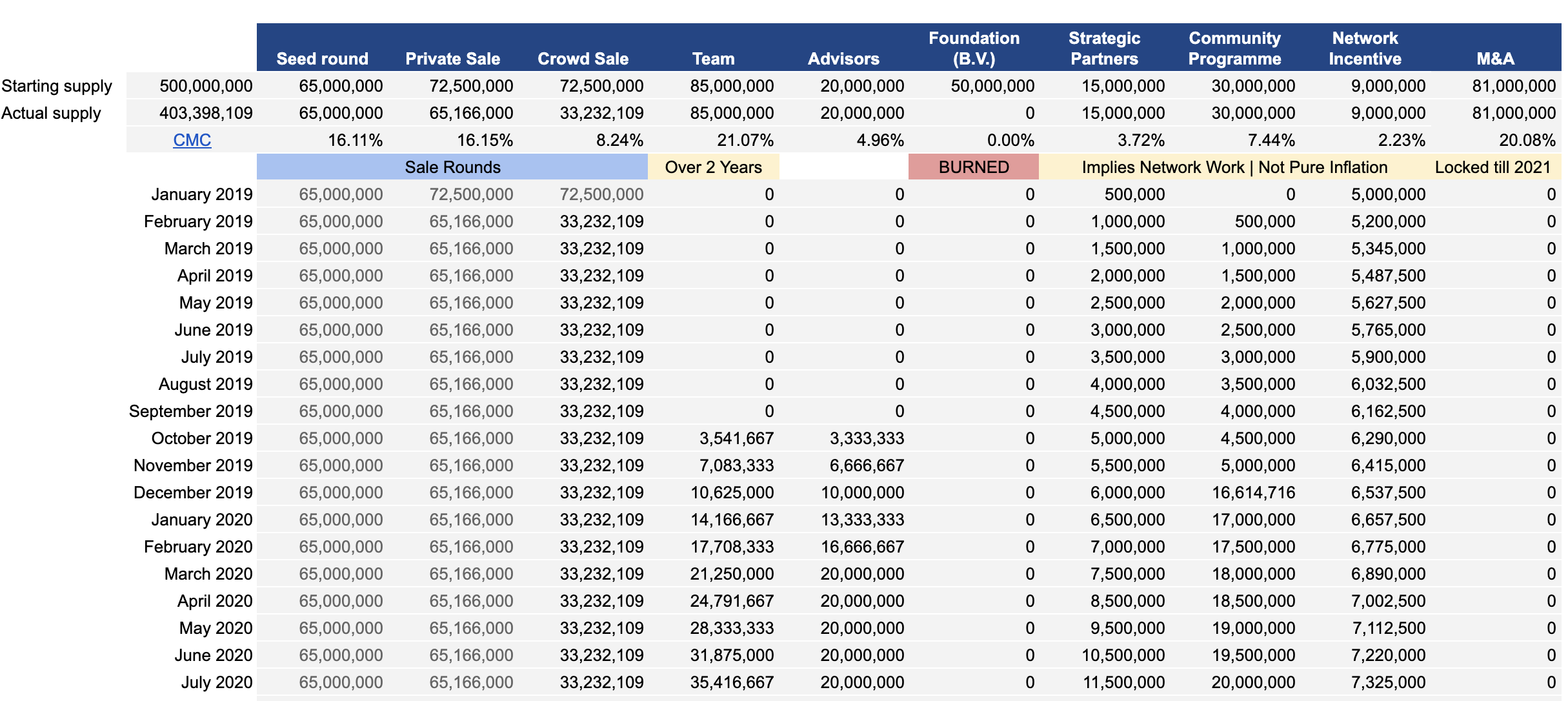 Foundation wallet = burned
Previously, 50M LTO were locked with no intention of using those tokens apart from voting for mainnet upgrades if major decisions were to arise. With the update on June 3 of 2020, these tokens forever left the circulation.
This is not a meme burn like projects did in 2017-19. The reason for this was to further decentralize the token distribution and make sure the community has more say in the direction of LTO Network. The event has been coupled together with the opening of Binance mainnet LTO deposits which enables the supply for both withdrawals and deposits for ERC20/Mainnet/BEP2.
M&A Fund = locked until 2021
The biggest supply, 81M LTO (18%), is reserved for M&A (Mergers and Acquisitions) and remain unused until at least 2021. As blockchain fights to find more adoption, some projects with a great team and technology, might not be able to maintain their token value. Projects which synergize with LTO and are undervalued in terms of the market cap may be acquired by merging that network into LTO Network. This is done by swapping those tokens for LTO, after which they will be rendered obsolete (and thus valueless). By doing so, the market cap of that project is added to LTO Network's market cap.
Social and Network Mining over a few years‌
Community Programme: 6.5% of the total supply is used for social mining incentives over a period of a few years. The gradual schedule is a guideline, it can be lower. Besides, the community program requires participants to hold LTO continuously, it is not any kind of airdrop. It's not just making the supply go higher, it only goes higher if the holding and engagement are higher (think of a hash rate model). Read more here.
Strategic Partners: 3.3% of the total supply is used as developer grants and for onboarding integrators, to foster network adoption. These are also not to be sold. They are intended for leasing to influential early adopters that require the opportunity to try out the network before fully committing to it. If you were to make a supply chart, keep in mind 100,000 LTO rewards would be depleted over a period of a year or so depending on the size of the integrator. So these are also long-term rewards.
Network Incentives: 1.75% of the total supply is used for network mining incentives for over a period of a few years, to encourage the community to run more nodes. So just as the community program, it requires network participation to get some rewards. In addition to that, it can be used as a separate wallet for doing specific marketing/tech tasks as external developers.
"Why are we doing this? We are seeing more traction than ever before from new clients, both nationally and internationally. Seeing a product-market fit happening is something magical! To maintain this great community and show our belief in the future of LTO, we have committed for the years to come instead of months to come. We will keep driving adoption forward, together with you!"

Rick Schmitz, CEO at LTO Network
As of now, we are ready to release the website, new documentation, we have established our market presence, and this next 1 year will be the defining factor of LTO Network being adopted by international organizations and becoming the go-to-toolkit for system integrators!
---
Sale Stages and Bonuses
In December 2017 LTO Network raised the seed round of $1.4M among supportive European community members and early adopters. There was an average of 40% bonus in the seed round, and it was almost fully raised in fiat. After working for a year, developing the product and getting clients, LTO Network raised private sale in December 2018. The bonus was between 15-30%, raising $1.7M. The last sale round was the crowd sale, in January 2019. The smart contract was open for 60 hours, during January 14-16. In total, 7990ETH (990,000 USD) was raised, and remaining unsold tokens were burned, which was 50% of the allocated supply.
Participants of all  stages were fully unlocked back in January 2019.

"We liquidated raised funds into USD straight away, because we do not tolerate speculation with the money community entrusted us with. We need to spend it on development and marketing, rather than taking risky choices with it. And that's what we have been doing!"

Martijn Migchelsen, CFO at LTO Network
We do not rely on sales proceeds to continue the operations and network growth, so we have committed to a long-term lockup, to strengthen the community trust in the project. All company wallets and distribution stages can be verified. You can find the token distribution update here.