LTO Network x Binance Chain. Our vision and next steps.
Update Binance Chain: Thursday, June 6, 2019.
---
Thank you for supporting us, your responses have been amazing!
We've got positive votes from all validators and have been listed on Binance DEX. This adds another great liquidity access for our old and new community. Please don't confuse this with full migration, because we have a functioning mainnet with a lot of products and users. You can see Binance Chain as a "liquidity chain". Like wrapping BTC on the Ethereum blockchain, with the help of bridges.
It's the same LTO token on every chain, with the same total supply. Nothing will ever change with regard to that, we will not dilute or tamper with the supply.
You can freely travel from one side to another, there are no concrete requirements to swap. The procedure is simple, just follow the instructions in the mainnet LTO wallet client. Make sure to save your seed phrase.
We have a unique concept of the Bridge Troll, which is not just a way to enable interoperability but was also a tool to design a new unlock model. The tokens have been in circulation from the very beginning, you can check more info here. Make sure to read about the Bridge Troll fees!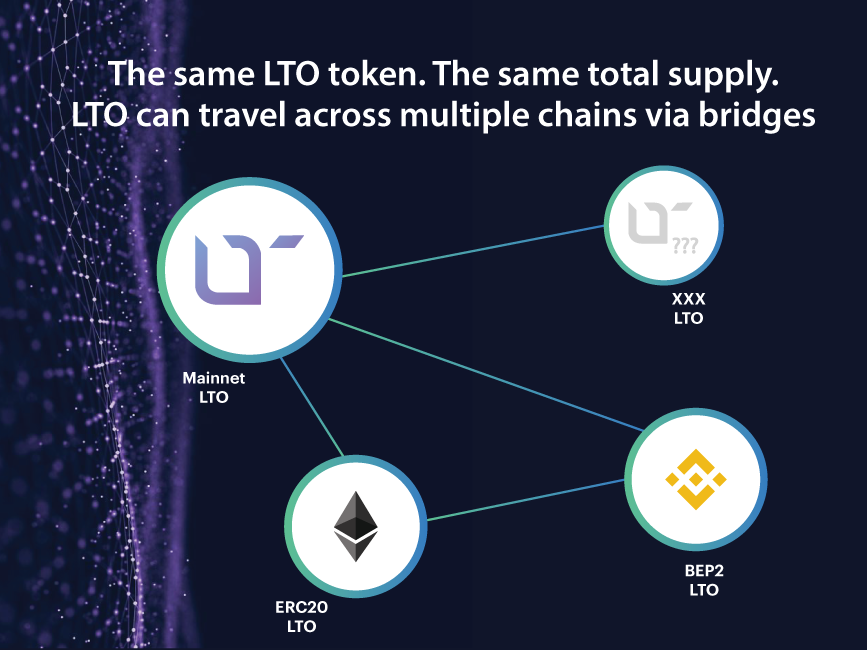 Scroll down for a full description of bridges and the triple token model
LTO Network is determined to help Binance Chain and Binance DEX increase liquidity and exposure. Therefore, we will be facilitating trading on Binance DEX. Next up, we want to integrate LTO mainnet into Trust Wallet and enable the full triple interoperability within the Binance ecosystem. In addition to that, we are planning an airdrop to encourage trading on Binance DEX.
Stay tuned for future news!
---
We are proud to be joining Binance Chain! Here is the full guide.
LTO Network has started the integration process with Binance Chain. As you might have noticed, LTO tokens have already been issued on mainnet. Oops! In this article, we explain the triple token model, our vision for Binance Chain, and liquidity implications. Grab a cup of tea — it turned out to be a lengthy post 🍵
Integration process and the next steps
It was super easy to issue LTO on Binance Chain using their documentation and help from the team. SDKs made it smooth to integrate swaps into our Bridge.
— Sven Stam, CTO of LTO Network
The team at Binance have been very helpful and responsive. It took us barely any time to set up an account and complete the steps. Here are some helpful sources:
Since LTO has been issued on Binance Chain, here are the next steps:
Finishing up the integration of transfers to and from Binance Chain into the mainnet LTO wallet. This will enable the swaps as described further in this article. There is no 2FA in the LTO wallet because it's not custodial. It's just a client generating your key pair.
Submitting the Binance DEX listing proposal. Let's show everyone the LTO community power: register on the forum and leave a comment in the thread!
---
Our vision: Binance Chain & Interoperability
Interoperability has been a hot topic since 2017. When you talk about interoperability, amongst other things, it implies exchanging assets. These actions, in particular, have economic purposes. Now imagine a DEX built from scratch. What's the biggest problem for DEXes? More than scalability, it's liquidity.
And who is better suited to fixing that than the major exchange? By connecting its projects into one ecosystem, Binance has the highest chance of enabling the economic interoperability for projects. And we want to show our support for the leading global exchange while this is happening!
Academic papers are important but in blockchain it's easy to get lost in constant philosophical battles. Focus on the main goal: adoption and users!
— Rick Schmitz, CEO of LTO Network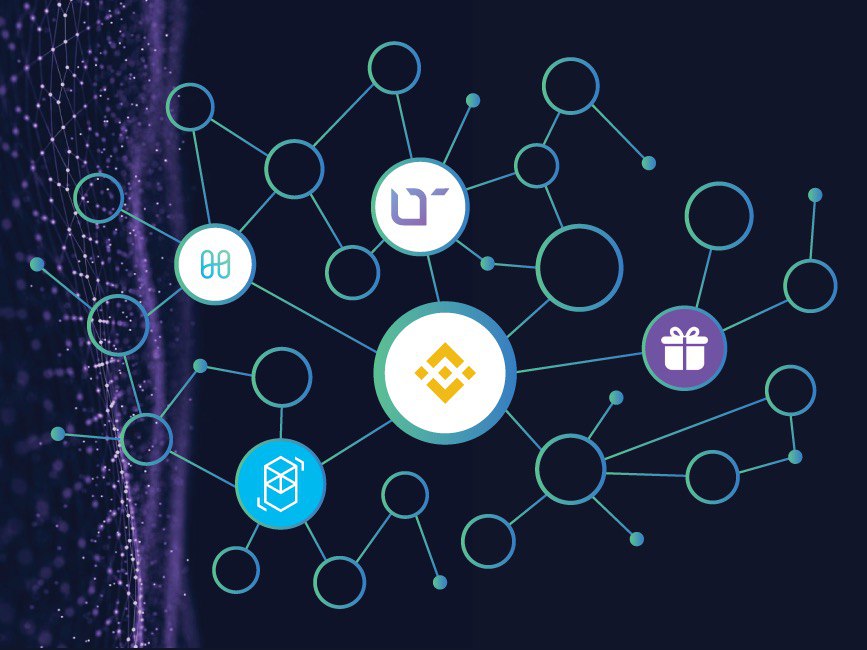 As we move further into our development, we will be expanding our own business ecosystem as well. Therefore, this is also a great benefit to be part of Binance Chain since it gives access to every other project in it. Dozens of projects building on Tendermint are a few clicks away from becoming a part of that ecosystem.
From dual to triple token model
LTO Network has had a hybrid token model for quite a while already. Now we are adding the BEP2 standard as well, so how does this all work?
It's the same LTO token, it just exists on different chains
Mainnet LTO tokens – for utility. This is where the magic happens. LTO mainnet has been live since January 2019 and is now ranked in the top-20 most used blockchains (Source: Blocktivity), with over 20K daily transactions. Mainnet LTO, the actual utility token, serves two purposes:
Transaction fees when you interact with the LTO blockchain whether it's a normal transfer, an anchoring transaction, or something else.
Staking. By staking on a node, either by running it or leasing to it, you receive rewards for the blocks forged by that node proportionate to your stake. It's a variation of Proof of Stake model.
ERC20 tokens – for liquidity.  They are present on Ethereum and are intended for liquidity. Only the ERC20 tokens are directly tradeable. To trade mainnet LTO, one needs to make a bridge swap.
BEP2 tokens – for liquidity. They are present on Binance Chain and are also intended for the purposes of liquidity and act the same as ERC20 tokens.
Bridge Troll: BEP2 is not a loophole
The Troll Bridge is the gateway between LTO Mainnet and ERC20 liquidity tokens. The dynamic troll fee was designed back in 2018 to protect the community from sell-offs and serve as a shield while LTO Network was growing.
The Troll Bridge will be implemented on the Mainnet to BEP2 bridge in the same way it currently exists for Mainnet to ERC20, in doing so, it ensures the BEP2 tokens are used for their desired purpose, and not just as a loophole to avoid the troll fees.
ERC20 -> Mainnet: 10 LTO for crossing the bridge. Given to mainnet nodes.
Mainnet -> ERC20: 10 LTO for crossing the bridge which are burned.
Mainnet -> BEP2: 10 LTO for crossing the bridge which are burned.
BEP2 -> Mainnet: 10 LTO for crossing the bridge. Given to mainnet nodes.
ERC20 -> BEP2: 10 LTO for crossing the bridge.
BEP2 -> ERC20: not available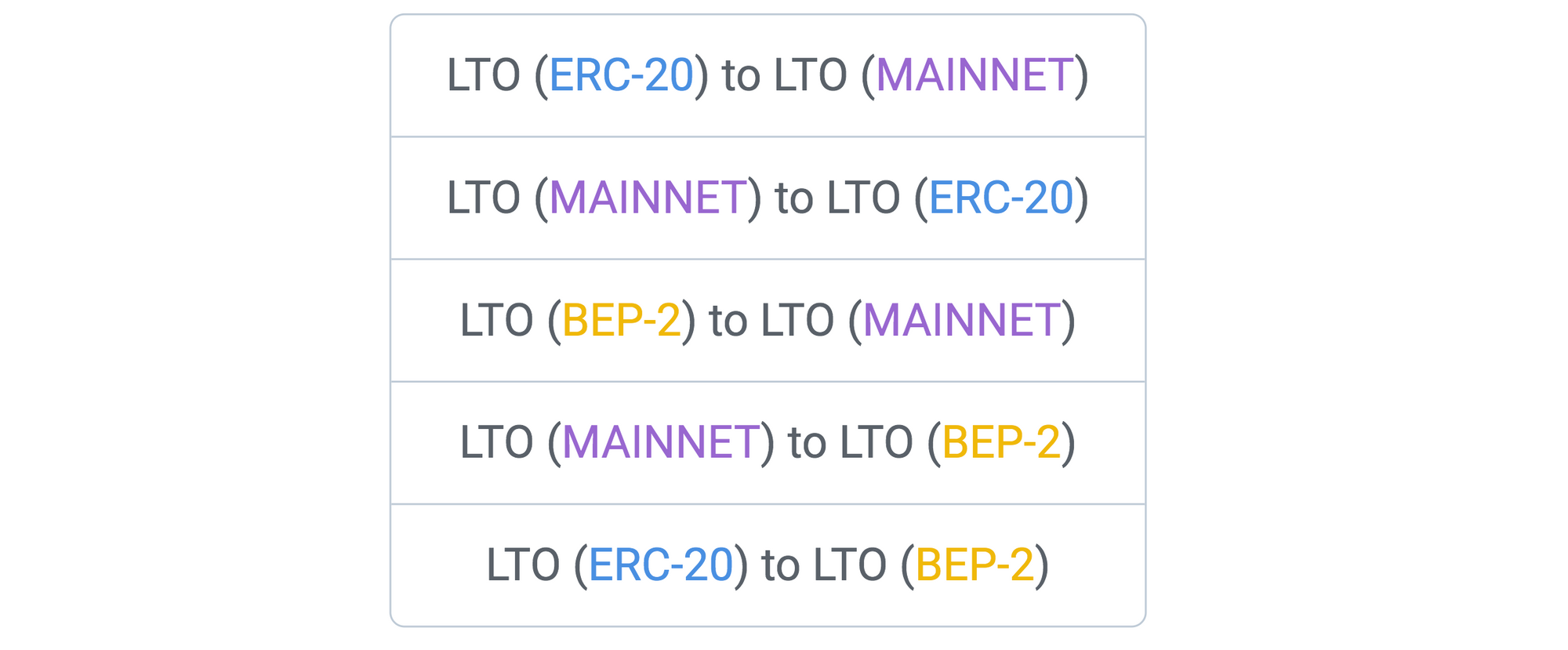 To summarise, LTO mainnet tokens are not directly tradeable, but can come into or leave the blockchain via the bridge. For liquidity purposes, LTO ERC20 and now LTO BEP2 tokens are used. They can be exchanged for each other using the bridge inside the LTO Network mainnet client which is being upgraded at the moment.
LTO token supply will never get higher
The staking model of LTO Network is non-inflationary: staking rewards are transaction fees which are generated and paid for by integrators and clients.
The total supply, which is currently 453,811,839 LTO, can only get lower but can never higher. The possible lower supply is due to Bridge Troll burning fees. You can find more info on the new concept of the Bridge Troll here.
The majority of LTO tokens are in circulation, but there is a confusion between a diluted and a circulating cap. We are working on that with the CMC team. Please note that 50,000,000 LTO out of 453,811,839 LTO are locked forever, and furthermore over 80,000,000 will be used only after 2021 for the M&A fund, meaning they are not inflationary. The other tokens have been in circulation since the beginning or are used as extra network incentives over the next 3 years. Find full disclosure here.
Liquidity implications for projects
Does BEP2 standard hinder projects from getting to other exchanges? Not at all. Does it dilute liquidity? Not at all.
An asset can exist on multiple chains, be in full custody of a provider, or wherever else  – depending on where users feel the most secure and convenient. In general, most of the liquidity would still remain in 1–2 exchange pairs, where people would eventually go to for trading.
Why will BEP2 -> ERC20 bridge not be available? LTO Network is determined to help Binance Chain and Binance DEX increase liquidity and exposure. Therefore, we will be facilitating trading volume on Binance DEX after the voting procedure, and make sure more LTO users and holders flow into the Binance ecosystem.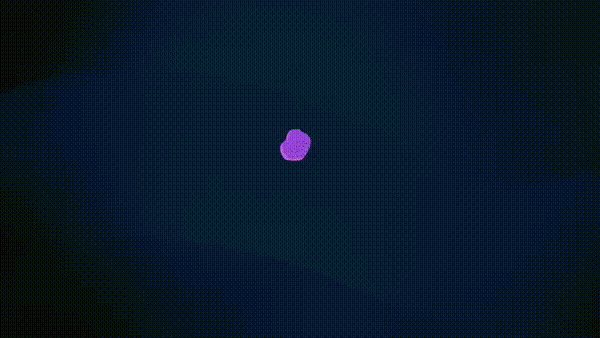 There are a lot of ways you can get involved and help us with adoption, marketing, tech development, and so on. We take our community seriously and reward them for being active and helpful. Join our journey!
Hottest updates from LTO Network
We have recently surpassed 20,000 daily transactions on our mainnet (which has been live since January 2019) with dozens of integrators and software providers using Layer 1 & Layer 2. This makes LTO the top-20 most used blockchain! Over $3M worth of LTO is now staked.
Our Business Development team is attending the world's biggest conference on ISO regarding Standardization of Blockchain and Distributed Ledger Technology in Dublin. LTO Network as part of the Dutch Commission is being involved in defining globally adopted standards for blockchain and guiding companies in how they should use it.
AMSTERDAM HQ EVENT – LTO Network announcing new products 🍹 Just like last year, we are organizing an afterparty with a few speakers to chat about blockchain adoption, have a few drinks and eat some burgers. Join us 🔥
---