LTO Network - 2021 Q2 Recap
It has been a great few months for the company due to development advances and the onboarding of new clients. However, it is undeniable that volatility in the cryptocurrency market affected many people and blockchain projects in general. Fortunately, this was not the case for the LTO Network. There were obstacles, but we persevered and are still on schedule with our roadmap and developments. In fact, we even had two new developers join our team to help speed up our activities during this time. That being said, the team has focused primarily on the LTO identity platform and ramped up on the development side as well. With the second half of the year upon us, we are fully prepared to increase our pace.

Let's dive into a breakdown of our current and upcoming moves.

Our recent noteworthy achievements:

---
LTO New Exchanges & Platform Listings
With the increasing popularity of LTO Network, there are many official and unofficial token listings on various platforms. Please note that when transferring funds, not all platforms support the same network.
While LTO Network has its own mainnet, the token also exists on Binance Chain as BEP-2 and on Ethereum as ERC-20. This duality allows for both greater liquidity and future integration for LTO in various DeFi protocols. Recently, we're also excited to announce that we have added LTO BEP20 as well. Please ensure that the correct network is used with any transactions that are made.
We're not stopping there - the LTO Network team will continue to expand the liquidity!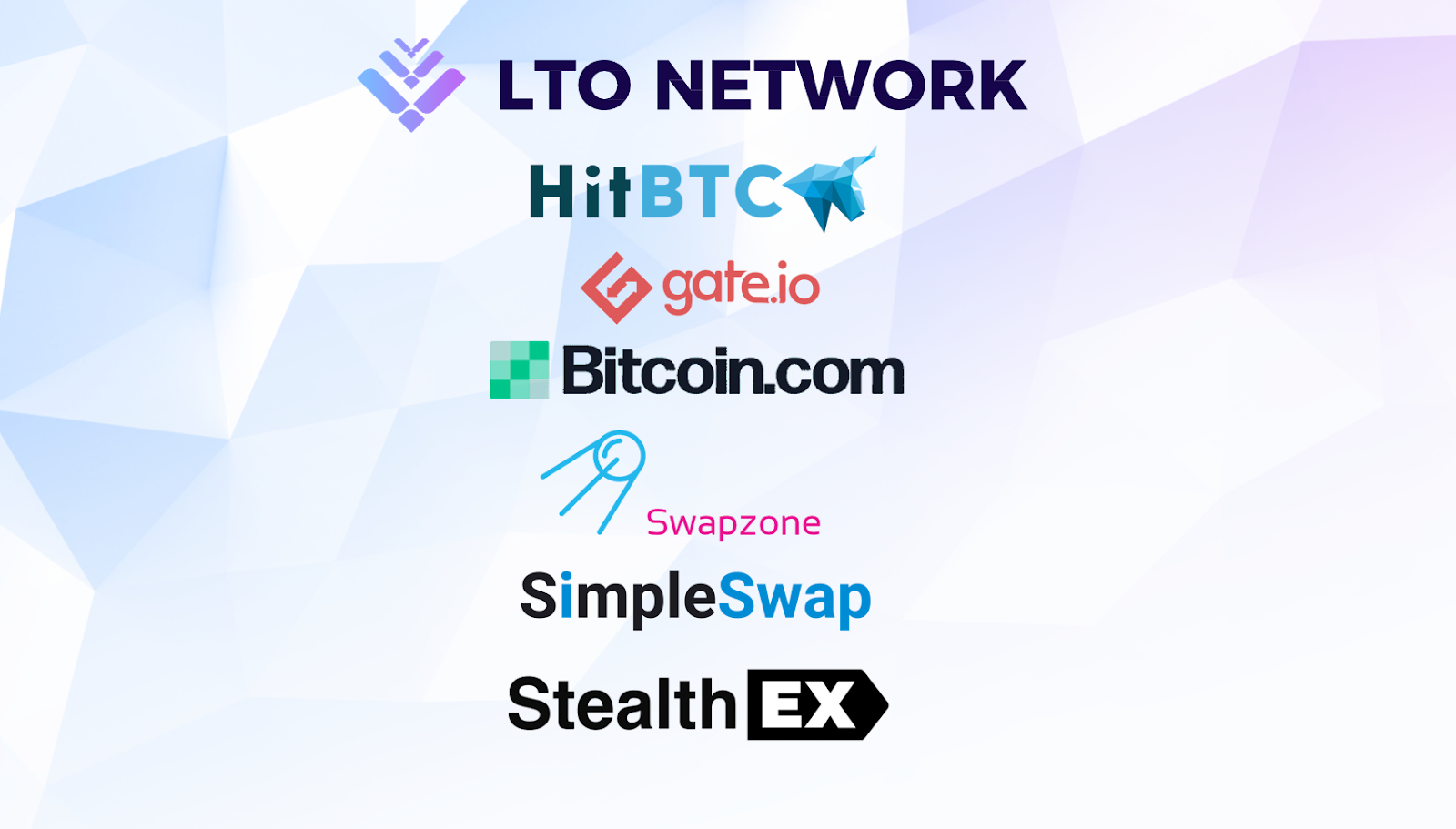 ---
Official Reddit AMA "Ask Me Anything" - /r/CryptoCurrency (3 Million+ users)
Following the success of our first official Reddit AMA, we decided to reach out to the largest subreddit community, /r/CryptoCurrency, to host our second official AMA. We provided valuable insights into our mission and answered many thoughtful questions that the cryptocurrency community had for us. We received hundreds of questions and comments from the community and we discussed topics including adoption, partnerships, AML, and much more.
Read the full AMA here: https://www.reddit.com/r/CryptoCurrency/comments/mm5f9t/im_rick_schmitz_ceo_of_lto_network_expwcdeloitte/
---
LTO: Now available on AIRCOINS (Joining the World of Augmented Reality)
Aircoins is an entertaining and interactive smartphone app that allows users to find and hunt cryptocurrencies using augmented reality, while learning about various cryptocurrency projects within the space. Merging cryptocurrency with mobile gaming, and augmented reality with digital advertising, players are incentivized to collect rewards and digital assets. Aircoins users are now able to explore and hunt for LTO tokens anywhere in the world.
---
Increased Corporate Visibility via the Blockdata Platform (CB Insights)
Blockdata (owned by CB Insights) is a platform for businesses and corporations to understand and familiarize themselves with trending blockchain projects. Akin to a one-stop-shop for adopting blockchain, Blockdata sources both innovative content and objective data into a single platform to assist corporations in their project analysis to make their decisions with confidence.
As a leading blockchain project with one of the most adoptions in the real world, LTO was invited to join the platform as one of Blockdata's founding projects. This allows for greater visibility to all users and businesses connected to the CB Insights ecosystem. Through increased exposure, we have gained numerous business opportunities that are now actively expanding our adoption plan.
---
Over 2 million LTO tokens burned by the deflationary token economics
It's been less than a year since the deflationary feature, 12 burn, has been implemented!
Learn more about the LTO V2.0 Deflationary Fee-Burn Token Economics here!
---
Partnership with Sphereon & Use Case (Paper Release)
Sphereon and LTO Network have partnered previously to create a digital wallet that will significantly shorten and improve application and onboarding processes. The MyCompanyWallet app will enable organizations to seamlessly exchange and validate the required information that is predicated on most intercompany agreements and transactions. This is only one of our many use cases that is currently publicly announced.
In partnership with Sphereon, we have released a detailed paper with examples of potential applications through Verifiable Credentials, some of which are currently in-progress as we are actively seeking new business opportunities to expand the adoption empire of LTO Network.
Read the full paper release here: https://drive.google.com/file/d/1RfaUqbUNeSjWJNfCkEGblFE52tIDhbgW/view
---
Two new developers joining the LTO team
As of June 1st, 2021, the LTO team is pleased to announce the arrival of two new developers, Bruno Duarte Brito and Kaloyan Tanev.

Bruno Duarte Brito
Formerly the host of a technology-based podcast series, "Adventures on Blockchain" on DevChat.tv, Bruno is no stranger to the world of tech. At the age of 18, Bruno founded a software collective with a colleague and acted as its CTO for two years whilst leading and managing his team of developers to deliver excellent projects ranging from e-commerce platforms to custom-tailored video presentations using Raspberry Pi. Bruno holds certification by IBM on blockchain fundamentals using their Hyperledger framework and is highly experienced in managing developers for a multitude of deliverables.

Kaloyan Tanev
Technical University of Delft graduate and winner of the 2020 Odyssee Hackathon, a globally renowned Blockchain Hackathon, Kaloyan is a talented, professional software engineer with specialties in decentralized ledger technologies, cryptography, and financial technologies. Kaloyan is highly experienced in custody solutions development that are tailored to large financial institutions, and will utilize his strong foundations to assist LTO in creating solutions that embrace innovation.
---
Transaction health & On-chain performance
There has been some temporary decline in the numbers of transactions on the LTO Mainnet in the past months, due primarily to the switch to KATE Innovations. KATE Innovations is a very large company and the transfer process can be complicated, which explains the extended transfer and resetting process time. The good news is that both the original nodes and newly added nodes will be established in this respect to serve their clients with anchor transactions in the upcoming months.
In addition to our active products and on-going projects, we have a growing number of use cases in active development that are yet to be deployed into production. The transactions are being produced by actual companies, integrators, and their clients – mostly utilizing anchoring as Proofs of Existence for their digital data such as workflow steps, digital signatures, and we are expanding this with verifiable credentials in the upcoming months.
Staking AUM
The staking AUM (assets under management) on the LTO mainnet have been retracing in relation to market volatility, however the total stake never fell below 100M LTO, which shows that the majority of our holders are confident long-term investors unaffected by the current market volatility. The total staking amount is currently ~106M LTO, compared to the peak ~135M LTO that occurred in March 2021, approximately a 20% pull back.
Want to spin up a node and participate in the network? Check this guide.
---
To conclude, the LTO team has been ramping up the development side of both the LTO public node and indexer service. We have gained an increase in the volume of adoption requests on the blockchain side, which assures us that we are actively moving towards a successful future for our company. Our team is strategically selecting clients that share our vision. The LTO team is working around the clock to accomplish our goals and we are extremely proud of everything that we have accomplished amidst the market pullback. We'd like to thank our wonderful community as well for sticking with us and remaining confident. We will continue to build, deliver, and contribute to this amazing industry!
Last, but not least - we have re-launched the LTO Network newsletter!
To sign-up for the newsletter, please visit: eepurl.com/gO9V2z
Follow us to stay up-to-date with all the latest news & updates about LTO Network!
---
Website | Telegram | Twitter | Reddit | LinkedIn | Facebook | Instagram | Documentation